2015 Club News January - March
29th Mar 2015. Jenny Latham & Chris Ward Win Harriers 10k Championship.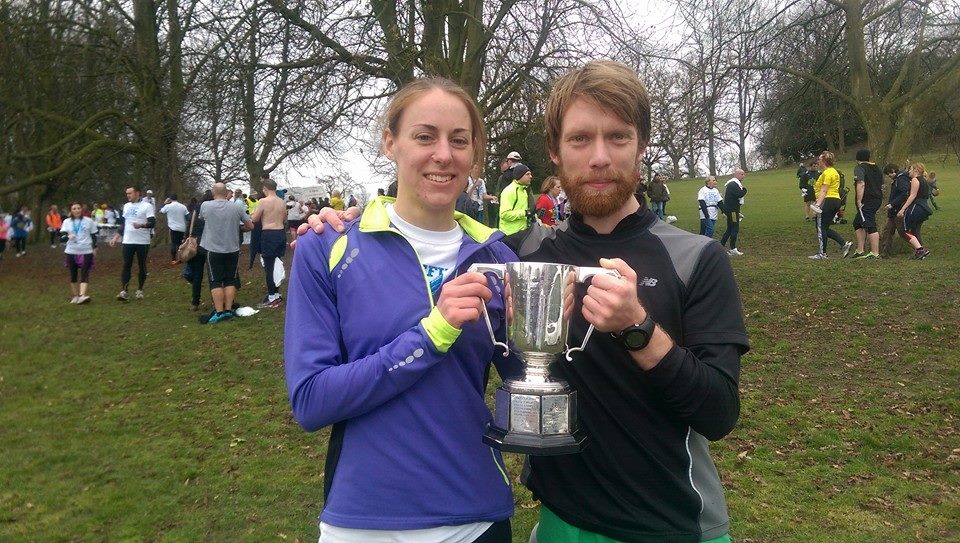 Harriers 10k Champions Jenny Latham & Chris Ward


This year's Wakefield Hospice 10k road race attracted a record entry of nearly 2000 runners, with a good turnout of Wakefield Harriers competing in the event, which incorporated the Club 10k Road Race Championship & also the 4th round of the Club Distance Runners League Championship. Conditions were quite quite good, although a bit breezy, and several Harriers recorded good PBs on the undulating out and back course along Horbury Road. Full Race Results
Jenny Latham stepped up to win her first Club Championship, and finished 1st lady in the race and 26th overall in 36:59. Faye Beckett was 3rd lady in 38:57 and with Helen Beck 5th in 39:32 the Wakefield ladies dominated the race, and easily won the team prize once again. Also breaking 45 minutes were Nicky Steel in 41:28, Libby Greatorex 43:18 & Joanne Biltcliffe 44:41.
In the men's race there was also a new Club Champion as Team Captain Chris Ward has his best ever 10k run to finish 6th in 34:29, but he was pushed most of the way by fast improving Ben Butler, who came 7th in a big PB of 34:40. Also under 40 minutes were William Ingram with 36:34, Jack Mitchell 36:54, Stewart Knowles 37:01 & Glenn Shelley 38:31. The men's team also won the team prize.

26th Mar 2015. Stadium Closures Over Easter.
Please note that Thornes Park Stadium will be closed for the Easter holidays on the following days :- Friday 3rd April , Sunday 5th April & Monday 6th April. Club nights are not affected.

22nd Mar 2015. Weekend Round Up of Leading Distance Performances.
Several club members were using the East Hull 20 Mile road race as part of their build up for the forthcoming marathons, and all had good runs. The best performances were from Ben Butler who finished 22nd in 2 hrs 08:32, Hugh Allen 39th with 2 hrs 12:52, and Helen Beck who was 4th lady and 79th overall in 2 hrs 21:41. Race Results.
Joanne Biltcliffe continues to improve, and ran a new PB when running 73:15 at the Thirsk 10 Mile road race. Race Results.

14th/15th Mar 2015. Weekend Round Up of Leading Distance Performances.
Jennifer Walsh was selected to compete for the North of England team at the IAAF Cross Country Permit Meeting at Antrim in Northern Ireland, which incorporated the Home Countries International. She had an excellent run to finish 11th in the 5.6 Km race, first counter from the North, and ahead of two of the ladies that had been selected for the England team! Race Results. Nicky Steel was close to her PB when running 41:07 at the Gainsborough & Morton Striders 10K in Lincolnshire. Race Results.

14th Mar 2015. Harriers at English Schools Cross Country Championships.
Once again Wakefield Harriers were well represented at the English Schools Cross Country Championships, at Witton Country Park near Blackburn, with 8 runners competing for West Yorkshire Schools.
The first two counters for West Yorkshire in the Senior Girl's race were Faye Beckett in 79th and Lucy Robinson in 82nd, and in the Intermediate Girl's race Bethan Oates 72nd, Rebecca Sheppard 76th, & India Elliott 89th also did well to finish in the leading four for the county. Matthew Hill was 75th in the Junior Boy's race, and Max Rose & Liam Grosse were 241st & 244th respectively. Our congratulations to them all. Race Results from ESAA and from Power of 10

8th Mar 2015. Helen Beck First Lady at Retford Half Marathon.
A few Harriers took part in the Retford Half Marathon as part of their London Marathon preparations, and came away with some good results. Helen Beck was close to her PB in finishing in 40th place and first lady in 1 hr 26:47, and Ben Butler made another big advance finishing an excellent 6th in 1 hr 18:13. Race Results.

7th Mar 2015. Harriers Run for Yorkshire at Inter-Counties Cross Country.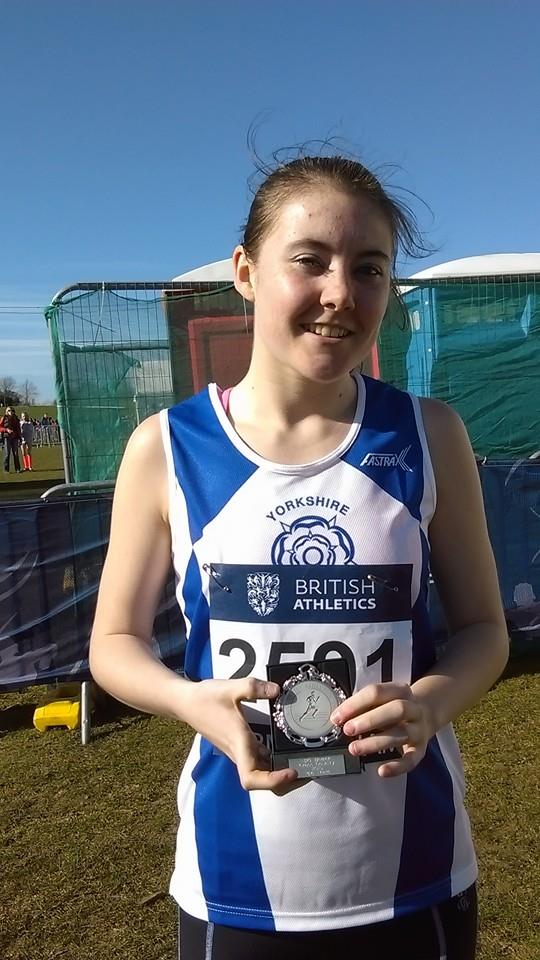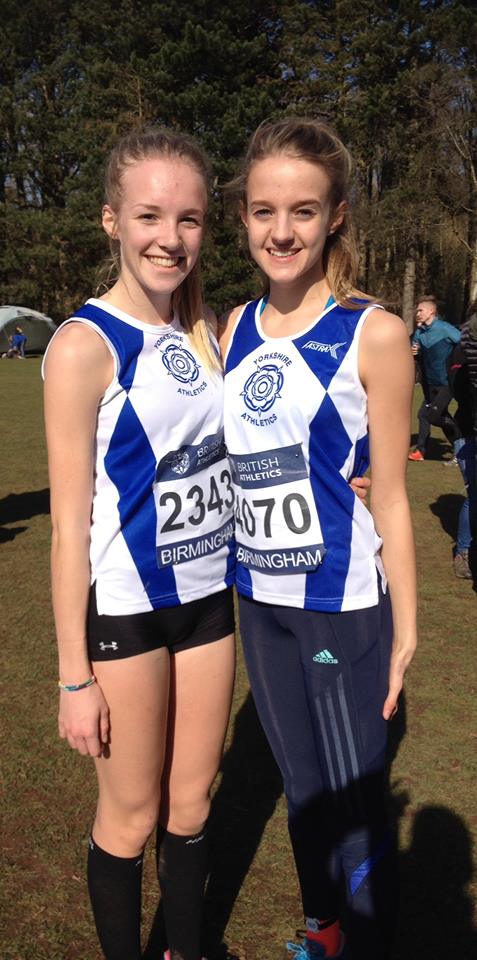 The club had three runners selected to compete for Yorkshire at the Inter-Counties Cross Country Championships at Cofton Park, near Birmingham, and they all ran with distinction, with Faye Beckett & India Elliott also coming away with team medals. In the U20 Ladies race Faye had an excellent run to finish as 4th Yorkshire counter in 29th place, as the county finished 2nd. In the U17 Ladies race Bethan Oates did well to finish in 52nd place, and was also 4th Yorkshire counter, and India Elliott also had an excellent run to be Yorkshire's 3rd counter, in 36th place in the U15 Girls race, to help Yorkshire to 3rd team.
Race Results from British Athletics
2nd Mar 2015. New Members Joining Wakefield Harriers in March.
Here's the list of people that have been accepted into membership by Wakefield Harriers at the March Committee Meeting. Please welcome them all to the club.
List of New Members.
28th Feb - 1st Mar 2015. Silver Medal for Abby Ward at EA Indoor Champs.
Abby Ward continued her medal winning ways with a silver at the England Athletics U15/U17/U20 Championships, at the EIS in Sheffield, with a height of 1.75m in the U17 High Jump. Rebecca Tolson also did well to finish 5th= in the U20 High Jump with 1.60m. Also competing, but not reaching the finals, were Charlotte Sampson (U17W 60m 7.95s) & Leonie Ashmeade (U15G 60m 8.21s). Meeting Results.
1st Mar 2015. Good Runs from Harriers at Norton 9 Mile Race.
There were several Harriers taking part at the Norton 9 Mile road race, near Doncaster, the 3rd race in this year's Club Distance Runners League Championship. It was a very windy day, so times weren't fantastic, but Chris Ward ran well to finish 7th in 53:07, and the fast improving Stewart Knowles had a good run to finish 17th in 55:49. Glen Shelley with 58:36 & Hugh Allen with 59:41 were next home from the club, and Nicky Steel was our first lady with 63:33 in 100th place, out of over 500 runners. Download Race Results from Askern RC.
Elsewhere on the roads, Jasmine Kerry did the Bath Half Marathon as part of her London Marathon preparations, and ran a very creditable 1 hr 29:40.
20th/22nd Feb 2015. Two Silver Medals at BUCS Indoor Championships.
Several Harriers were competing for their universities or colleges at the British Universities & Colleges (BUCS) Indoor Championships at Sheffield, and came away with two superb silver medals. In a very close race Sally Smith came 2nd in the 800m in a fast 2 mins 08.49s, and Jennifer Walsh continued her good form with 2nd in the 3000m in 9 mins 35.97 secs.
Other Harriers competing were Bethany Porter (11th LJ 5.13m), Grace Eyles (200m 28.16s in heats), Will Mulroy (HJ 1.80m in qualifying) & Keiran Thackray (SP 10.41m in qualifying). Meeting Results.
22nd Feb 2015. Pocklington 'Snake Lane' 10 Mile Road Race.
There were some decent times recorded at the Pocklington 'Snake Lane' 10 Mile road race near York. Hugh Allen was first Harrier to finish in 63:43, ahead of Tom Potter with 64:53. Helen Beck was close behind as she finished 9th lady in 64:57, and Nicky Steel ran a new PB of 68:25 to move up to 8th in the club's All-Time Road Rankings. Race Results.
21st/22nd Feb 2015. INAS European Cross Country Championships in Wakefield.
The City of Wakefield and Thornes Park played host over 2 days to the INAS European Cross Country Championships, for athletes with an intellectual disability. Although there wasn't a huge turnout of runners, it was still impressive how well they ran. Here are the results of the Mens 3 Km Race and Mens 6 Km Race.
There was also an 2 Km race for U11 athletes and there was an excellent turnout from the club, particularly from the girls. In a close finish Brody Ashton came out on top, just ahead of Suzanne Brooke and Lavinia Gavaghan. U11 Race Results
21st Feb 2015. National Cross Country Championships in London.
The club had a very small contingent competing in the National Cross Country Championships at Parliament Hill Fields in North London. Jasmine Kerry was well up in Senior Ladies race, finishing 216th out of 865 finishers, and Daniel Franks was 148th in the U20 Mens race. Results of all races
15th Feb 2015. Weekend Round Up of Leading Distance Performances.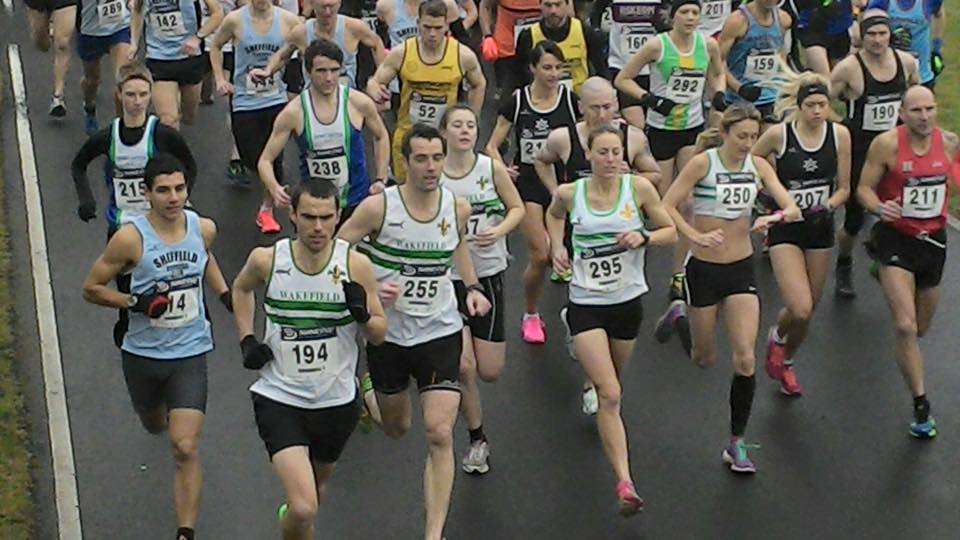 Wakefield runners were prominent in the Wombwell 5 Mile Road Race, with Helen Singleton finishing 17th and 1st lady in 29:05. Jenny Latham was 2nd lady in 29:42, and with Faye Beckett 6th lady in 31:17 our girls easily won the ladies team prize. The fast improving Ben Butler was first home from the club in a fine 7th place in 28:06, and Stewart Knowles also had a good run finishing 19th in 29:20. Race Results.
Hugh Allen competed in the Liversedge Half Marathon from Roberttown as part of his preparations for the London Marathon, and recorded a useful 88:50 on the hilly course. Race Results.

15th Feb 2015. Charlene Thomas 4th in British Indoor Championships 3000m.
Charlene Thomas had her 2014 summer season ruined through injury, and finally made her competitive comeback in the 3000m at the Sainsbury's British Indoor Championships at the EIS in Sheffield, a race she won last year. This year she was up against top class international competition, and came 4th in 9m 11.67s. Amanda Shaw also competed in the 60m & 200m, running 7.94s & 25.03s in the heats. Meeting Results.

12th Feb 2015. Second Thornes Park Stadium Indoor Athletics Meeting.
Another good turnout of young athletes for the second of the Indoor Athletics Meetings at Thornes Park Stadium. Meeting Results in XL.

7th Feb 2015. Two Harriers Win West Yorkshire Schools XC Titles.
At the West Yorkshire Schools Cross Country Championships at Silcoates School the club had several runners representing their schools districts, with some fine performances. The in form Faye Beckett won the Senior Girls race with Lucy Robinson 6th & Annabel Mason 9th. In the Intermediate Girls race Harriers were dominant, with Bethan Oates & Becky Sheppard taking the top 2 places, and India Elliott & Taylor Hammond 8th & 9th. For the Junior age group the club had Abbey Brooke 2nd in the girls race, and for the boys Matthew Hill, Liam Grosse & Max Rose packed well in 4th, 5th & 7th. Meeting Results.

1st Feb 2015. Northern Athletics U13/U15 Indoor Championships.
There were no medals this year at the Northern Athletics U13/U15 Indoor Championships, at the EIS in Sheffield, but there were some good performances. In particular there was a Grade 2 performance from Olivia Roe (U13G 60m 8.72s), and Grade 3 performances were recorded by Leonie Ashmede (U15G 60m 8.32s) & Olivia Roe (U13G 200m 29.70s). Meeting Results.

1st Feb 2015. New U20 Club Record from Faye Beckett at Dewsbury 10K.
The fast Dewsbury 10k Road Race course produced some good times from the Harriers who took part, in spite of some strong winds. The Wakefield ladies in particular did well, with Helen Singleton (37:32), Faye Beckett (38:01) & Helen Beck (39:12) finishing as 2nd Ladies team. Faye's time was a big PB, which moves her up to 13th on the club all time list, and is probably our best time ever by an U20 over the distance. Nicky Steel (41:41) & Joanne Biltcliffe (44:58) also had solid runs under 45 minutes. Ben Butler was first home from the club, finishing 88th out of the field of over 1000 runners in 37:02, with Stewart Knowles next home in 37:38, and Tom Potter (38:28) & Neil Penn (38:31) also under 45 minutes. Race Results.
The race was also the 2nd round of the 2015 Club Distance Runners League Championship. Faye Beckett is the early leader ahead of Helen Beck, with Ben Butler leading the men.

31st Jan 2015. Jennifer Walsh 9th at BUCS Cross Country Championships.
Running for Durham University Jennifer Walsh had another good run to finish 9th at the British Universities & Colleges (BUCS) Cross Country Championships at Brighton.

24th Jan 2015. Ladies Team 4th at Northern Cross Country Championships.
The last time the Northern Cross Country Championships were held at Pontefract Racecourse, three years ago, Jennifer Walsh won the U20 Ladies title with her previous club. In her first run in the Senior race she had an excellent run to finish 8th for us in a top quality field that included several internationals. Top triathlete Jenny Latham had a rare outing over the country, and she also had a superb run to finish 29th. Helen Beck in 62nd & Nicky Steel 116th had good runs to complete the scoring team, who were just out of the medals in 4th, an excellent team result. Joanne Biltcliffe also did well to finish 191st out of 342 finishers. In the U20 Women's race Faye Beckett ran well to come 19th, and in the U17 Women's event Bethan Oates finished a superb 10th. India Elliott also got a great result coming 13th in the U15 Girl's race.
In the Men's race, which was also a quality event with Olympic Triathlon Champion Alistair Brownlee finishing 2nd, Chris Ward 202nd, Stewart Knowles 344th, Neil Penn 392nd, Hugh Allen 423rd & Paul Robinson 460th all did well out of the large field of nearly 700 finishers. In the U20 Men's race Daniel Franks was 59th, and for the U15 Boy's Matthew Hill was 75th, Max Rose 102nd, Liam Grosse 120th & Thomas Allen 157th, as the team finished 20th. Results from Northern Athletics.

17th/18th Jan 2015. 3 Medals at Northern Athletics Indoor T&F Championships.
There were 3 medals for the club at the Northern Athletics Indoor T&F Championships at the EIS in Sheffield, a gold, a silver and a bronze.
The club's winner was English Schools Champion Abby Ward, who took the U17 Ladies High Jump title with a leap of 1.75m, her best ever indoor performance. James Saxton finished 2nd in the Senior Men's 1500m in 4m 01.39s, and Charlotte Sampson was close to the club U17 record when finishing 3rd in the 60m in 8.02s, after running 8.00s in the heats.
In addition, just outside the medals were Amanda Shaw (4th SW 200m 25.16s & 7th 60m 7.86s), Rachel Crorken (4th U17W 300m 42.77s), Patrick Thackray (4th U20M 60m Hurdles 11.02s) & Rebecca Tolson (4th U20W HJ 1.55m). Results from Power of 10.

18th Jan 2015. Roundup of Leading Road Running Performances.
In the Brass Monkey Half Marathon at York M45 vet Hugh Allen recorded a big PB with 84:50, and Tom Potter ran 88:22. Race Results.
There were several runners taking part in the Inskip Derby Arms Half Marathon, and Helen Beck had a fine run to finish 5th lady, recording 87:30. Next Harrier home was M50 vet Craig Orr in a PB of 91:56, just ahead of fellow M50 Mark Whitehouse. Race Results.

15th Jan 2015. First Thornes Park Stadium Indoor Athletics Meeting.
There was an excellent turnout of young athletes for the first of the Indoor Athletics Meetings at Thornes Park Stadium. Meeting Results in XL.

12th Jan 2015. New Members Joining Wakefield Harriers in January.
Here's the list of people that have been accepted into membership by Wakefield Harriers at the January Committee Meeting. Please welcome them all to the club.
List of New Members.

10th/11th Jan 2015. Weekend Indoor Meeting Results Roundup.
James Saxton had an excellent start to the year by running a very fast 1500m at the BMC Sheffield Indoor Open Meeting, running close to his outdoor best with a time of 3 mins 59.07 secs. Meeting Results.
At the Leeds City Open Meeting there were several athletes competing, with the best performance being from Leonie Ashmeade, winning the U15 Girl's 60m in a Grade 3 time of 8.5s. Meeting Results.

10th Jan 2015. Yorkshire Cross Country Championships at Lightwater Valley.
The Yorkshire Cross Country Championships were once again held at Lightwater Valley, near Ripon, in very windy conditions. In the Senior Men's race Jack Hallas, running his last race for the club, had his best senior finish to date in these championships with an excellent 4th place, to qualify for the Yorkshire team. Chris Ward was next home in 68th, and with Alistair Robinson 73rd, Ben Butler 80th, Stephen Tilford 85th & Hugh Allen 153rd the team finished a good 9th. Also competing for the team were Paul Robinson in 161st & Mark Whitehouse in 172nd out of 230 finishers. Daniel Franks did well to finish 10th in the U20 race. The Women's team was weakened by injuries to former internationals Jennifer Walsh & Julie Briscoe, but Cara Sloss 27th, Faye Beckett 31st, Helen Beck 36th & Aine Elliott 64th all ran well, and the team finished a very creditable 5th. We also had Joanne Biltcliffe finishing 102nd out of 165 finishers, and Faye was an excellent 6th in the U20 age group, and so qualified for the Yorkshire team.
Aine is better know as Aine Hoban, another former international and 3 times Yorkshire Champion, and the club record holder for 5000m & 10000m. She was on a visit from her home in New Zealand, and surprised us by wanting to compete for the team again, and remind herself what English cross country was like!
In the younger age groups our best result was in the U17 Girl's race, where Bethan Oates was an excellent 4th in her first year in the age group, and qualified for the Yorkshire team. India Elliott also had a fine run in the U15 Girl's race, finishing 10th, and Poppy Thorpe was 46th. In the U15 Boy's race Max Rose was 32nd, Liam Grosse 38th & Thomas Allen 48th, as the team finished 10th. For the U13 Girls Lavinia Gavaghan finished 30th, and for the U13 Boys Callum Gaunt was 55th.
Results in XL from Northern Athletics.

1st Jan 2015. Rise in Training Fees from 1st January.
At the Annual General Meeting held in October it was agreed, due to continuing rising costs, to a rise in training fees of 50p. This has now taken effect from 1st January 2015, and the new training fee is thus be £2.50 for over 11 athletes, and £2.00 for the U11 athletes.

Top | Home


Club News and Reports Archives

The Power of 10
Results Index

Leading Club Performances
2015 Women & Men
2014 Women & Men
2013 Women & Men
2012 Women & Men
2011 Women & Men
2010 Women & Men
2009 Women & Men
2008 Women & Men
2007 Women & Men
2006 Women & Men
2005 Women & Men
2004 Women & Men
2003 Women & Men
2002 Women & Men
2001 Women & Men
2000 Women & Men


---