Road Running
Wakefield District Harriers & A.C. are based at Thornes Park Athletics Stadium in Wakefield, an international standard track, which also has an excellent indoor training facility attached. Thornes Park is also an attractive and hilly park, which is great for those hill training sessions, and has become a regular cross country venue in recent years.
We are a large but friendly club, and try and cater for all runners and for all age groups, and we have a very strong Women's team, and are also strong in the Veteran age groups. The distance runners compete in the Yorkshire, Northern and National Road Relay Championships, and in 2004 we were proud when our Senior Ladies team came 3rd in the England National 4 Stage Road Relays. More recently, we were thrilled in 2011 that the ladies won the Northern 6-Stage Road Relays for the first time, and came 2nd in 2012.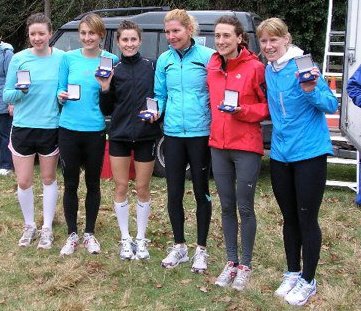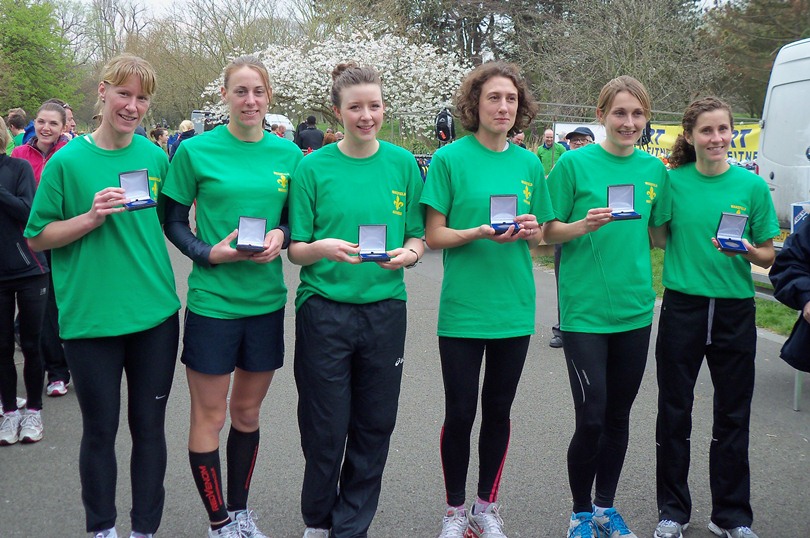 Wakefield Ladies won the 2011 Northern 6-Stage Road Relays, and came 2nd in 2012.
We have our own annual Club Championship events for the road runners, with trophies awarded to the winners. These include the 10K Road Championship, which in recent years has been incorporated in the Wakefield Hospice 10K, and is usually around Easter time, and the Christmas Handicap Road Race, which is usually run the week before Christmas.
The club also has a social running side, with a Distance League Championship to encourage runners to compete in local road and off road events. We also have an annual trip to Castres, Wakefield's twin town in France, to take part in their annual relay race, which is a fantastic long distance event for senior runners.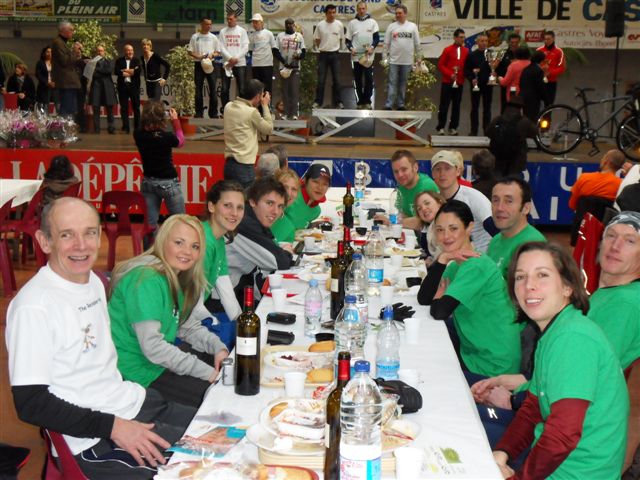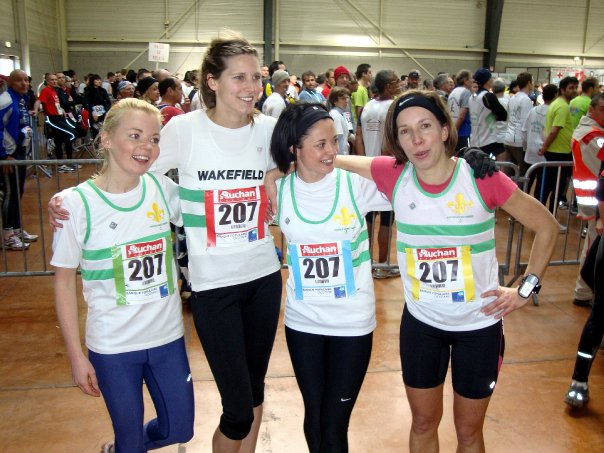 Harriers club members enjoying a weekend away in France.
In addition we usually have several teams competing in the long distance relay events such as the Calderdale Way Relay, Bradford Millenium Way Relay & Leeds Country Way Relay, which as well as being challenging running events are also great team competitions.
And for our more senior runners there is chance to compete in the Yorkshire Vets Road Relay Championships, organised by the Yorkshire Veterans Athletic Association, or at the National Masters Road Relay Championships, where our M50 team finished 11th in 2010.
Runners wishing to find out more about road running at the club, or who wish to compete for the club, can find contact details for their team manager/captain on the Club Contacts page.
If you are a new runner, then we can help you with training for competitions, but we do expect that you have done some training already, and are able to run comfortably for 45 minutes or more before coming down to the club. You are welcome to join us for training for up to a month, before deciding whether or not you want to join the club, and there is usually a club member on hand to welcome and help new runners when they first come down. Download New Runners Information form for more details.
If you are beginner or novice runner, then Run England and Thornes Park Stadium offer a Saturday morning session for "Wakefield Joggers", to help get you started, or bring you up to a level where you are able to train with the Harriers. This is fully supported by a Run England Leader, and is every Saturday at 9.15 am, meeting in the Reception area at Thornes Park Stadium. You must be aged 16+, and is free, unless you want to use the changing facilities and have a shower, which costs. £2.50. For more details telephone the reception on 01924 302385.
Top of Page | Home Page