Cross Country Running
Wakefield District Harriers & A.C. are based at Thornes Park Athletics Stadium in Wakefield, an international standard track, which also has an excellent indoor training facility attached. Thornes Park is also an attractive and hilly park, which is great for those hill training sessions, and has become a regular cross country venue in recent years. The club usually hosts a round of the West Yorkshire Cross Country League, and incorporates within that event the annual Club Cross Country Championships. In 2010 the club was proud to host the Yorkshire Cross Country Championships in Thornes Park, and as a result of our success we were asked to host it once again in 2012, where we were privileged to witness the Brownlee brothers in action as part of their Olympic preparations.

The Brownlee brothers competing at Thornes Park in the 2012 Yorkshire Championships.
We are a large but friendly family club, catering for all runners and for all age groups, from the age of eight right up to the Veteran age groups. The distance runners compete in the West Yorkshire Cross Country League, which has races for all age groups from U11 up to seniors. We also send teams to all the major championships, including Yorkshire, Northern and National Cross Country Championships. In the 2010 Yorkshire Cross Country Championships we were the leading club in the younger age groups, and also had solid team results from the senior teams.
We also send teams in all age groups to the English Cross Country Relay Championships at Mansfield, put on by the English Cross Country Association, who also put on The National, and in 2000 & 2004 we were proud when our senior ladies team came 2nd in this prestigious event. They also did well to come 6th in 2012 and 5th in 2016.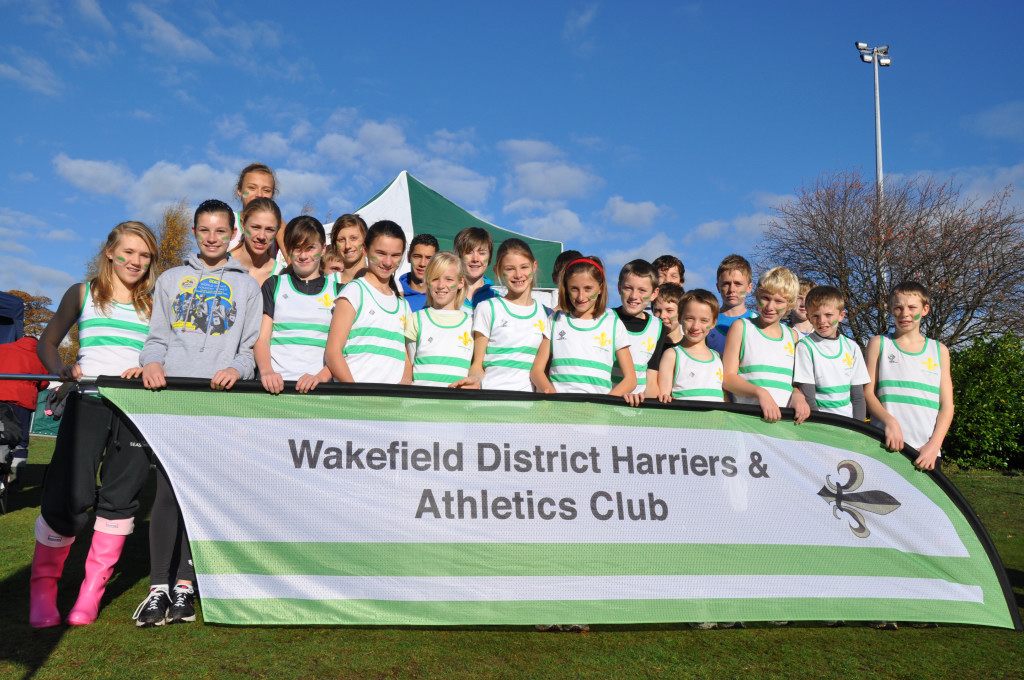 The Younger Harriers at the English Cross Country Relay Championships.
In addition, for the senior runners, we usually have several teams competing in the long distance relay events such as the Calderdale Way Relay, Bradford Millenium Way Relay & Leeds Country Way Relay, which as well as being challenging off-road running events are also great team competitions.
And for our more senior runners there is chance to compete in the Yorkshire Vets Cross Country Championships, organised by the Yorkshire Veterans Athletic Association.
Runners wishing to to find out more about cross country running at the club, or who wish to compete for the club, can find contact details for their team manager/captain on the Club Contacts page.
Top of Page | Home Page