2011 Club News January - March
27th Mar 2011. Harriers Compete at Spenborough Open Meeting.
Several Harriers started their track and field season by competing at Spenborough, in the Ivan Stringer Memorial Open Meeting. There were several PBs recorded by the younger athletes, and one grade 2 performance by Sarah Drake, with a good throw of 45.42m in the senior Hammer. Results from Power of 10.
27th Mar 2011. Fantastic New Club Half Marathon Record by Julie Briscoe.

In her final race before the Brighton Marathon in two weeks time, Julie Briscoe dramatically improved her PB from seven years ago, and became England Half Marathon Champion. She came 36th overall and 1st lady in the Wilmslow Half Marathon, which this year incorporated the England Championships, running a New Club Record time of 1 hrs 13 mins 29 secs, beating her previous best by over three minutes! Our congratulations to Julie on becoming England Champion, and on this form she can expect to run a great marathon time at Brighton.
Wilmslow Half Marathon Results from Power of 10, and see Wilmslow Half Marathon website with picture of Julie crossing the line.
26th/27th Mar 2011. Distance Runners Weekend Roundup of Leading Results.
Jasmine Kerry, who is currently working in London, found herself on the podium with former World Champion Sonia O'Sullivan, when she came 3rd lady in the Newham 10k in a new PB of 41 mins 02 secs. Newham 10k Results, with picture of Jasmine.
Julie Greenwood ran a new PB of 67 mins 49 secs in the Thirsk 10 Mile Road Race, finishing 15th lady in the large field. The race, which had to be rescheduled from November last year because of the snow, incorporated the North of England & Yorkshire Vets AA Championships, in which Julie finished 3rd in the Ladies 35 to 39 category. The event also included a wheelchair race, which was won by our own Jason Richards in 47 mins 12 secs, with Steve Williamson not far behind in 3rd.
26th Mar 2011. M50 Team Wins Yorkshire Vets Cross Country Championships.
In the Yorkshire Vets Cross Country Championships at Fartown, Huddersfield the mens over 50 team of Paul Hallas 7th, Pete McNamara 9th & Dave Brailsford 18th all ran superbly to win their team race. It was a very close race throughout, but Paul & Pete finished strongly on the last of the 5 laps to gain a few valuable places to beat Sheffield & Rotherham. In the M35-49 race John Convery finished 6th overall and 3rd in the M45 category, and with John Mason 18th, Carl Quinn 39th & Paul Robinson 48th the team just missed out on medals by 4 points, but still did very well to finish 4th team.
Men 35-49 results , Men 50-69 results , Women Over 35 & Men Over 70 results.
20th Mar 2011. Wakefield's Ladies Team Win Northern 6-Stage Road Relays.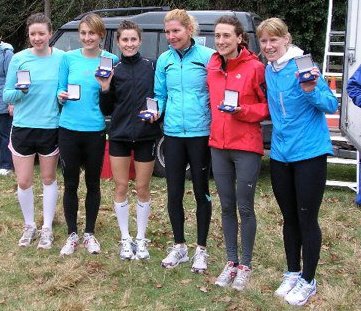 For the first time in three years the club had a full strength Ladies team out for the Northern 6-Stage Road Relay Championships, held at Catterick Garrison in North Yorkshire, and in an exciting race the team of Sharon Marshall, Charlene Thomas, Katie McHale, Helen Singleton, Sarah Beevers and Julie Briscoe came home victorious, to become Northern Champions for the first time. Our 2009 UK 1500m Champion Charlene Thomas was 2nd fastest overall, international marathon runner Julie Briscoe was 5th fastest, and Helen Singleton with the 6th best time of the day were the cornerstones of the victory, and with Sharon, Katie & Sarah all running to form as well the team were delighted to come home 14 seconds clear of the field.
The Men's team of John Convery, Jack Hallas, David Brailsford, Paul Hallas, Pete McNamara, Richard West, Neil Dutton, Matthew Crawshaw, Dyon Whitely, Tom Coney, Chris Ward & Ashley Raby also did very well to come 25th in the high class 12-Stage field, and so qualify along with the ladies to compete in the National Road Relay Championships at Sutton Park on Saturday 9th April. Jack Hallas was the team's fastest runner on the short stage, and 10th fastest overall, and John Convery was our fastest long stage runner.
Women's Results and Men's Results from race-results.co.uk and Event Photos from athletesinaction event photography.
Here's a wonderful film on youtube of the girls in action, from Charlene & Aaron Thomas,
and here's a report from Athletics Weekly online, on page 18, and a report from Northern Athletics.

19th/20th Mar 2011. Distance Runners Weekend Roundup of Leading Results.
In Saturday's Leeds 5K Park Run 13 year old George Heppinstall had his outing, running the fine time of 19.05. Diane Simmons & Ruth Bailey did the East Hull 20 Mile, as part of their preparations for the London Marathon, and Julie Greenwood ran an encouraging 41:58 in the Bradford 10K, finishing 5th lady.

19th Mar 2011. Harriers Compete in English Schools Cross Country Championships.
A large number of Wakefield Harriers' young distance runners were selected to run for their county schools teams at the English Schools Cross Country Championships at Wollaton Park, Nottingham. Most of them were competing for West Yorkshire Schools, but we also had a runner for North Yorkshire Schools and another for Humberside Schools, and they all ran with distinction.
Our best results were in the junior girls race, where Annabel Mason 25th, Stephanie Rodgers 73rd, Chloe Fitton 77th, Rebecca Firth 132nd & Saskia Lewis 264th did the club proud. In the intermediate boys race we were also well represented, with Matthew O'Connor 35th, Jordan Turner 115th, Jake Worton 165th, & Ben Daggett 250th all running well. In the senior girls race Sally Smith was a fine 37th, in the intermediate girls race Olivia Radcliffe came 175th, and Sam Convery & William Ingram came 245th & 316th in the junior boys race.
Results from ESAA.

14th Mar 2011. Four Young Harriers Selected to Run in London Mini Marathon.
Annabel Mason, Ben Read, Chloe Fitton and Sally Smith have all been chosen to run for Yorkshire in the London Mini Marathon. This should be a great experience for them, and hopefully will inspire them to take part in the main race in years to come.

12th/13th Mar 2011. Distance Runners Weekend Roundup of Leading Results.
In Saturday's Leeds 5K Park Run 16 year old Matthew O'Conner had a successful outing, running an excellent PB time of 16:39, just ahead of John Convery.
Some of our runners preparing for the London Marathon were doing long races on the roads, with James Morris improving his PB by 6 minutes at the Retford Half Marathon, and Paul Minns, Craig Orr & Martin Holding running the Spen 20 Mile, where Pete McNamara ran a solid 2 hrs 15:45 to come 19th on the hilly course.

7th Mar 2011. New Members joining Wakefield Harriers in March.
Here's the list of people that have been accepted into membership by Wakefield Harriers at the monthly Committee Meeting. Please welcome them all to the club. List of New Members accepted into membership in March.

6th Mar 2011. Sarah Bostwick First Lady at Norton 9 Mile Race.
Several Harriers took part in the Norton 9 Mile road race, near Doncaster, the 2nd race in this year's Distance League Championship. Sarah Bostwick had a great run to win the ladies race, coming home in 47th place out of the field of over 500 runners, in a time of 58:04. She was just behind Carl Quinn, who was the first Harrier home in 45th in 58:02. Also under the hour was new member Paul Robinson, 54th in 59:05, and Tony Smith, 57th in 59:30. Race Results.

5th/6th Mar 2011. Good Showing from the Club's Young Multi-Eventers.
The club had several multi-eventers competing in the England Athletics U15/U17 Combined Events Championships at the EIS in Sheffield, with all of them recording personal best scores, and with several individual personal bests registered. In the U17 womens Pentathlon Bethany Porter came 10th with a score of 2878 points, with Danielle Anderson finishing 18th with 2618 points. In the U17 mens Heptathlon Kieran Thackray came 16th with 1947 points, and in the U15 boys Pentathlon Patrick Thackray came 10th with 1606 points. Meeting Results.

5th Mar 2011. Good Performances at Inter-Counties Cross Country Championships.
Wakefield Harriers were very well represented in the Yorkshire teams at the Inter-Counties Cross Country Championships at Birmingham's Cofton Park, which for the senior athletes included the trials for the World Cross Country Championships.
Helen Singleton came an excellent 81st in the Senior Womens race, as Yorkshire came 4th; Alice Lightfoot was 92nd in the U20 Ladies, with Yorkshire 3rd team; Sally Smith was 52nd & Yorkshire's 3rd counter in the U17 Ladies, as the team came 8th; Annabel Mason 20th, Rebecca Firth 89th & Sophie Woollin 146th helped Yorkshire to 2nd in the U15 Girls; Chloe Fitton 86th, Saskia Lewis 144th & Bethan Oates 222nd were in the U13 Girls team that came 8th.
Steve Eastwood returned from injury to come 225th in the U17 Mens race, and Benjamin Read 54th & George Heppinstall 97th helped Yorkshire come 5th in the U13 Boys. Congratulations must also go to our own Fiona Lancaster in her first year as team manager for the Yorkshire Cross Country teams. Results from Power of 10. and See excellent photos from Adam Kerfoot-Roberts from Halifax Harriers.

27th Feb 2011. Wakefield Harriers Men Win Team Prize at Huddersfield 10K.
There was quite a good turnout of road runners from the club at the Huddersfield 10K, the first race of this year's Distance League, and the men packed well to win the team prize. On the hilly course where all the times were slow, Chris Ward had a good run to finish 9th in 37:51, and he was closely followed by Pete McNamara in 13th (38:22) and Matthew Dodsworth 14th (38:39). Neil Dutton wasn't too far behind in 19th place (39:35), in the field of nearly 500.
Download Race Results in Excel.

26th/27th Feb 2011. Bronze Medal for Richard Higson-Blythe at BMAF Indoor Champs.
Richard Higson-Blythe came 3rd in the final of the M35 60m, in a time of 7.50s, at the British Masters Athletics Federation track and field championships held at Lee Valley. Steve Thorpe came 3rd in his heat in 7.78s. They both made the final of the 200m, with Richard finishing just out of the medals in 4th in 25.60s, with Steve 5th in 27.22s, after they had run times of 25.28s & 25.64s in the heats. Meeting Results.

26th/27th Feb 2011. Distance Runners Sunday Roundup of Leading Results.

Annabel Mason was in action on the fells again, and came first girl in the under 16 race at the Ilkley Fell Race. She knocked 90 seconds off the previous course record, coming 2nd overall in the race, just four seconds behind the first boy. Father John came 24th in the senior race.
Saskia Lewis & Faye Beckett (pictured left) competed at the Barton and District 31st Open Cross Country Meeting. Saskia did very well to win the U13 Girls race in a time of 7:28, and Faye ran a great race to come in 7th in a tough U15 girls race.
Sam Convery ran as a guest at the South Yorkshire Indoor Track League, and finished first in the 1000m in a PB time of 3:00. Meanwhile his father John won the Leeds Parkrun 5Km in 17:06.
26th/27th Feb 2011. Abigail Roberts Wins England Athletics Indoor U15 Pole Vault Title.
At the England Athletics U20, U17 and U15 Indoor Championships at the N.I.A. in Birmingham, a small number of Harriers took on some of the best young athletes in the country. Abigail Roberts repeated her performance of last year, vaulting an impressive 2.90m to win the U15 pole vault title, although this year she had to share first place. Bethany Sharp ran an indoor PB of 41.78s when coming 9th fastest in the heats of the U17W 300m, and Bethany Porter ran 9.33s in the semi-finals of the U17W 60m Hurdles, just short of her PB.
Meeting Results from Power of 10.
26th Feb 2011. Helen Singleton Selected to Compete in the McCain Indoor City Challenge.
Helen Singleton was once again selected to compete for the 'Sheffield Flames' team in the second of this season's McCain Indoor City Challenge at Cardiff. She came 4th in the 1500m in 4m 32.64s.
19th Feb 2011. New Club 3000m Record from Charlene Thomas at Aviva British Grand Prix.
Wakefield Harriers' middle distance star Charlene Thomas was invited to compete at the televised Aviva British Grand Prix, at the NIA in Birmingham, and she finished 7th in a top quality 3000m. She was unable to go with the pace of the highly rated Kenyans & Ethiopians, but was the 2nd British runner home in a New Club 3000m Record of 9 mins 01.43 secs, improving her best from two years ago by 0.2 secs.
19th Feb 2011. Annabel Mason Finishes 6th in National Cross Country Championships.
The club had many runners taking part in the English National Cross Country Championships at Alton Towers, competing against the top cross country runners in England over a muddy and hilly course. Star performance was from Annabel Mason, who had the best run of her career so far to finish 6th in the U15 Girls race, leading the team of Rebecca Firth (26th), Sophie Woollin (86th) & Faye Beckett (182nd) to an excellent 8th place team result, and easily the first Yorkshire club. Annabel wasn't far off winning a bronze medal, and here's a clip of her and our other girls in this youtube clip of the U15 girls race, from Alan Spurr.
The next best team result was from the U17 Men, where Jake Worton in 65th led home the team of Matthew O'Connor (100th), Ben Daggett (126th) & Jack Mitchell (208th) to a fine 12th place, and again first Yorkshire club. The U15 Boys quartet of Daniel Franks (87th), Sam Convery (133rd), William Ingram (151st) & Andrew Jones (258th) did almost as well, finishing a fine 15th team. In the U13 Girls race, the team of Saskia Lewis (71st), Chloe Fitton (146th), Beth Oates (161st) & Emily Gill (179th) packed well to finish 22nd team, and the U13 Boys team of Benjamin Read (76th), George Heppinstall (146th), Edward Dunbavin (222nd) & Jack Boyes (296th) finished a solid 28th team.
Disappointingly there were no complete Senior teams, but Chris Ward had a solid run in the mens race to finish 463rd out of over 1300 finishers. Judging by this youtube clip of the senior mens race, from David Gowans, it was a tough event !
Race Results from English Cross Country Association.
10th Feb 2011. Second Thornes Park Stadium Indoor Athletics Meeting.
There was another good turnout of young athletes for the second of the indoor Athletics Meetings at Thornes Park Stadium. Download Results in Excel.
10th Feb 2011. Harriers Selected for English Schools Cross Country Championships.
Our congratulations to Sally Smith, Olivia Radcliffe, Annabel Mason, Rebecca Firth, Rachael Firth, Chloe Fitton, Stephanie Rodgers, Matthew O'Connor, Jordan Turner, Jake Worton, Sam Convery & William Ingram, who have all been selected to run for West Yorkshire Schools at the English Schools Cross Country Championships at Wollaton Park, Nottingham on Saturday 19th March.
In addition Saskia Lewis has been selected to run for Humberside Schools, and Ben Daggett for North Yorkshire Schools.
Teams selected and details of event.
8th Feb 2011. Harriers Selected for Inter Counties Cross Country Championships.
Wakefield Harriers are proud to have had many of their runners selected to run for Yorkshire in the Inter Counties Cross Country Championships, at Birmingham on Saturday March 5th. Our runners who have accepted selection to compete are Chloe Fitton, Saskia Lewis & Bethan Oates (U13 Girls), Rebecca Firth & Annabel Mason (U15 Girls), Sally Smith (U17 Ladies), Alice Lightfoot (U20 Ladies), Helen Singleton (Senior Ladies), George Heppinstall & Benjamin Read (U13 Boys). Senior runners Julie Briscoe & Jack Hallas were also invited to compete, but have other events planned.
7th Feb 2011. New Members joining Wakefield Harriers.
Here's the list of people that have been accepted into membership by Wakefield Harriers at the monthly Committee Meeting. Please welcome them all to the club. List of New Members accepted into membership in February.
6th Feb 2011. Wakefield Harriers Ladies Finish 1st Again in Long Distance Relay in France.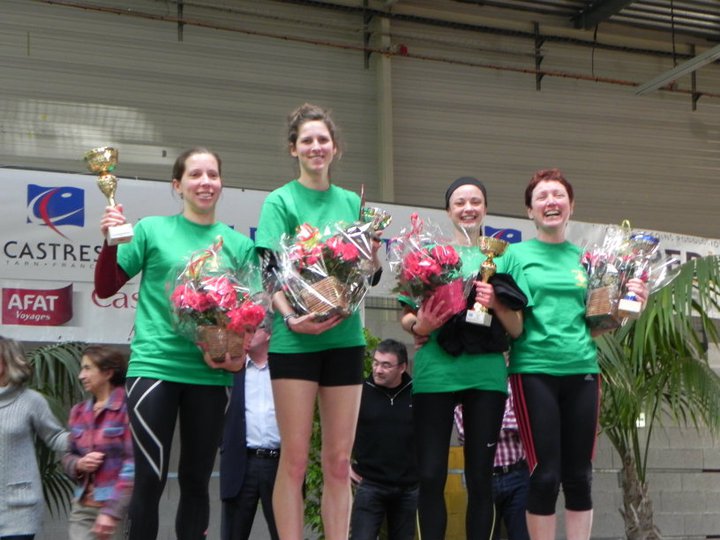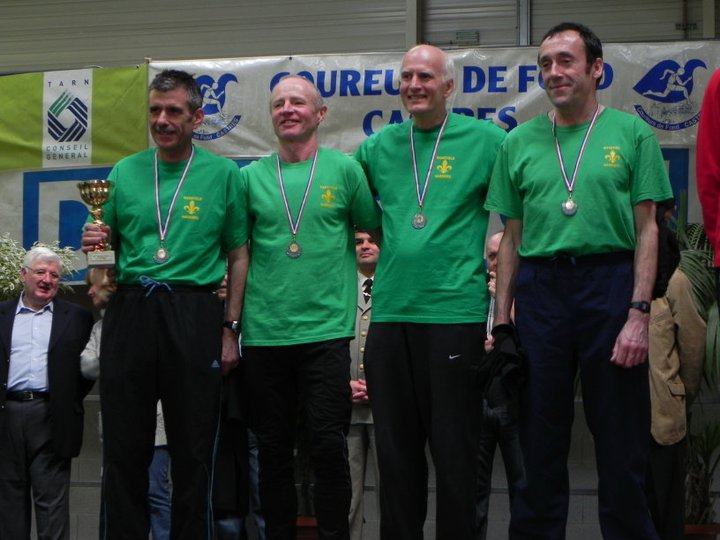 The Harriers were once again invited by Wakefield's twin town of Castres in France to take part in their long distance relay race, the 29th Ronde Givree. 14 Wakefield athletes competed in 4 teams, and once again came back with 2 trophies. The ladies team of Jasmine Kerry, Helen Beck, Anna Gaches and Diane Simmons ran superbly to win the ladies team trophy for the 2nd year running, and the M50 team of Peter Young, Steve Wilkinson, Dave Brailsford & Pete McNamara also repeated last year's result by coming 2nd in their category, and 22nd team overall.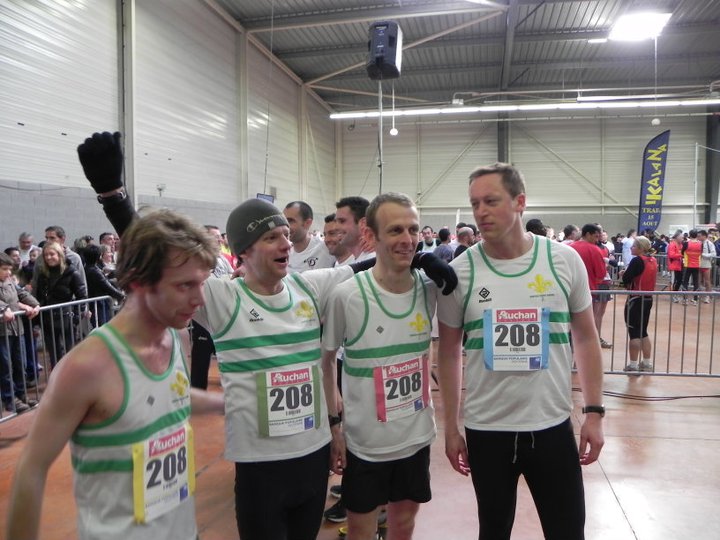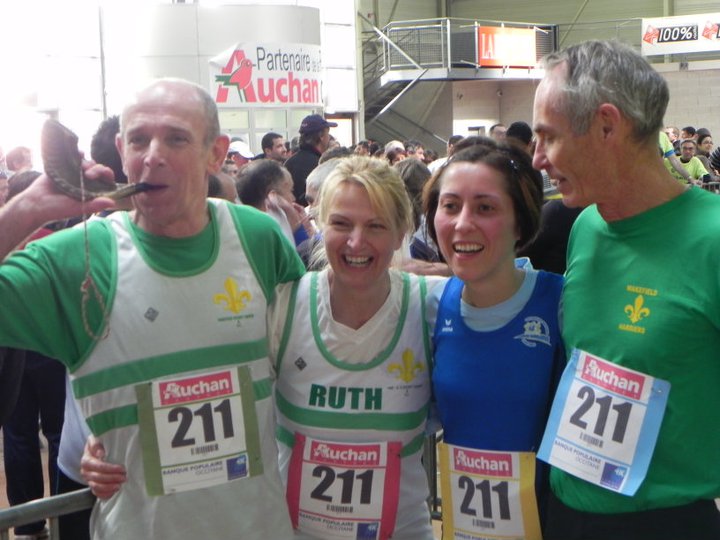 The mens team of Daniel Benjamin, Craig Heppenstall, Matthew Dodsworth & Chris Ward also had their best result so far to come 12th overall out of the 264 teams who completed the course. Ruth Bailey and Tony Audsley also had fun competing in an Anglo-French mixed team, in the spirit of this wonderful event. Results from Race website

6th Feb 2011. Helen Singleton Selected to Compete in the McCain Indoor City Challenge.
Helen Singleton was selected to compete for the 'Sheffield Flames' team in the first of this season's McCain Indoor City Challenge at the EIS in Sheffield, against other teams from all over the country. She came 5th in a tactical 1500m in 4m 37.13s.

6th Feb 2011. Another Fast Time from Julie Briscoe in Dewsbury 10k Road Race.
The weekend's high winds spoilt the chances of PBs for most runners at the usually fast Dewsbury 10k Road Race, but Julie Briscoe nevertheless had a fine run, recording 35 mins 36 secs and finishing 49th overall out of nearly 1000 runners. Sarah Bostwick Beevers ran 40:02, and Neil Dutton was our first male runner in 37:46, ahead of young Jack Mitchell, who did well to run 39:07. There was an encouraging 41:20 from new member Paul Robinson in his first 10k, just ahead of Chris Mitchell who ran 41:32. Race Results from Power of 10.

5th Feb 2011. Superb 3000m Run from Charlene Thomas in Germany.
Charlene Thomas showed that her recent spell training at altitude in Kenya has paid dividends by running the superb time of 9 mins 03.34 secs in the 3000m at the Sparkassen Cup meeting at Stuttgart in Germany, less than 2 seconds away from her PB and her club record for the distance.

5th Feb 2011. West Yorkshire Schools Cross Country Championships.
There was a large contingent of Harriers competing for Wakefield District and for other schools districts in the West Yorkshire Schools Cross Country Championships, which took place at Shipley. Annabel Mason was a clear winner in the Junior Girls race, which was dominated by Wakefield Harriers. Rebecca Firth came 3rd, ahead of twin sister Rachael, and Chloe Fitton, Stephanie Rodgers & Sophie Woollin were 6th, 7th & 9th respectively. Harriers also did well in the Intermediate Boys race, with Matthew O'Connor 2nd, Jordan Turner 4th, Jake Worton 6th & James Saxton 9th. There were also top 8 places from Sally Smith (3rd Senior Girls), Sam Convery & William Ingram (3rd & 6th Junior Boys), and Olivia Radcliffe (6th Intermediate Girls), to ensure a good representation from the club in the English Schools XC Championships on 19th March. Results from Shipley

29th/30th Jan 2011. Distance Runners Weekend Roundup.
The day after her fine run in the Northerns, Annabel Mason won the U17 girls race at the fourth of this season's PECO cross country races at Smeaton Approach, near Leeds. Father John finished 5th overall and first vet 45. Several Harriers gave themselves a run out in Park Runs in various locations as far afield as London and Barnsley, with Paul Lockwood winning the Leeds event in a 16 mins 03 secs for 5 Km, and M70 Brian Fozard still going strong with 26 mins 03 secs.

29th Jan 2011. Bronze Medals for U15 Girls at Northern Cross Country Championships.
At the Northern Cross Country Championships at Herrington Country Park, Sunderland, the club had a good set of results from the younger age groups, the highlight being a set of team bronze medals for the U15 Girls. Annabel Mason carried her strength from recent fell races to produce probably her finest cross country race to date, finishing an excellent 7th. Rebecca Firth was a bit below her recent form in 35th, but with Stephanie Rodgers 43rd & Sophie Woollin 52nd the team packed well to finish 3rd, and first team home from Yorkshire. The U13 girls were not too far away from the medals too, as in a close team competition they were 8th, but not that many points behind the third team. New member Chloe Fitton made an excellent debut for the club in 12th, and she was well supported by Bethan Oates 27th, Saskia Lewis 41st & Emily Gill 72nd. Saskia did particularly well, as after having been pushed over at the start, and cut and bleeding, she fought her way through the field from last to finish 41st.
There were fine team performances from the boys as well. Benjamin Read had an excellent run to come 13th in the U13 boys race, and with George Heppinstall 42nd, Harry Mallinson 69th & Edward Dunbavin 107th the team came 8th. The U15 boys quartet of Sam Convery 39th, Daniel Franks 49th, William Ingram 68th & Robert Sanderson 75th packed well to come 6th, as did the U17 mens team of Matthew O'Connor 24th, Jake Worton 38th, Jordan Turner 45th & Ben Daggett 57th.
In the races where we didn't have complete teams the highlight was a fine performance from Sally Smith, who finished an excellent 7th in the U17 ladies race.
Results of all races from Sportsoft.

23rd Jan 2011. Another Victory on the Fells for Annabel Mason.
U15 runner Annabel Mason continued her winning streak in her age group on the fells, at the Soreen Stanberry Splash near to Haworth. She was first under 16 girl and second overall in the Junior race.

22nd Jan 2011. Club Distance Runners Championship Announced for 2011.
It has been decided that we should revive the Distance Runners Club Championship, that we used to have many years ago. The idea is to get more of our runners turning out for the club in local races, to boost club spirit, and to raise the club's profile. It will also give runners something to aim for individually, with a trophy at the end of the season for the winner.
Click on the 'Distance Lge' link on the right for more details, and for results throughout the year.

18th Jan 2011. Daniel Franks Wins 2010 Senior Christmas Handicaps.
The 2010 edition of the annual Christmas Handicap race, postponed for the second year running because of the big freeze before Christmas, finally took place on the 18th January. As last year there was a good turnout of 35 runners, with several of the new and younger club members taking part for the first time. We had one of our youngest ever winners this year when Daniel Franks came home first, ahead of the still improving Mark Whitehouse, and Rob Oates finished third. New member Joanne Biltcliffe was first lady home in 8th place, and Helen Singleton was once again the fastest lady. Paul Lockwood, with his excellent time of 23 mins 16 secs, was the fastest overall in his first attempt at the race, and it was the best time recorded on this course in the last 8 years.
The handicappers did a good job again, with two thirds of the runners racing it out on the track at the end of the 4.5 mile course. Scratch man Paul Lockwood was just one second off his expected time, Mark Box was just two seconds away, and most of the field were within a minute of their expected times. Download Full Race Results in Excel.

16th Jan 2011. Cross Country Victory for Annabel Mason in PECO XC Series.
Annabel Mason continued her winning streak by coming first again in the U17 girls race at the third of this season's PECO cross country races at Bramley Fall Woods, near Leeds. Father John also ran well to finish 2nd in the mens race.

15th/16th Jan 2011. Three Titles and Two Club Records at Northern Indoor Championships.
At the Northern Athletics Indoor Championships at the EIS, Sheffield, the club had a good haul of medals, with Helen Singleton and Abigail Roberts winning titles, and new club records from Abigail & Bethany Porter. Helen had a great weekend winning two senior womens titles, first the 1500m in 4m 30.87s, and then the 3000m the following day in 9m 50.14s. Abigail won the U15 girls Pole Vault clearing a new club record of 3.00m, which is also the club U17 record was well, and in the U17 womens 60m Hurdles Bethany Porter improved her club record with 9.30s in the heats, before coming 4th in the final in 9.31s.
In addition, silver medals were won by Matthew O'Connor (U17M 1500m 4m 11.19s), Craig Westermann (U20M Shot 13.23m) & Will Mulroy (U20M HJ 1.85m), and bronze medals were won by Lucy Holmes (U20W Shot 10.86m), Bethany Sharp (U17W 300m 42.78s), Steven Eastwood (U17M 1500m 4m 13.59s), Bethany Porter (U17W LJ 4.87m) & Andrew Jones (U15B PV 2.50m).
Download full Results from Northern Athletics.

13th Jan 2011. First Thornes Park Stadium Indoor Athletics Meeting.
There was a good turnout of young athletes for the first of the indoor Athletics Meetings at Thornes Park Stadium. Download Results in Excel.

9th Jan 2011. Two Team Gold Medals at the Yorkshire Cross Country Championships.
At the Yorkshire Cross Country Championships at Rossington Hall, near Doncaster, the club had a successful day, with two team victories and several other medals. We didn't quite have the gold medal haul we did last year, when we hosted the championships at Thornes Park, but it was still a great day, and we were the most successful Yorkshire club in terms of team medals. And well done to our own Fiona Lancaster in her first year as organiser of the championships.
The first team victory came from the U13 girls team of Chloe Fitton 4th, Saski Lewis 5th & Bethan Oates in 8th, and Emily Gill also ran well to come 19th for a great team result. The U15 girls team, most of whom are in the first year in the age group, had an impressive team victory as well. Rebecca Firth was an excellent 3rd, and with Annabel Mason also running superbly to finish 6th and Sophie Woolin 11th, the team were well clear. The club's dominance in this age group was confirmed when the 'B' team of Stephanie Rodgers 17th, Faye Beckett 34th & Libby Greatorex in 35th were the first 'B' team home. Sally Smith came an excellent 2nd in the U17 ladies race to win the club's next individual medal, and with Jessica Timmins 16th & Hannah Marsh 24th the team came away with bronze medals.
In the senior womens race the in form Julie Briscoe took the bronze medal for the 2nd year running, and she was well supported by Helen Singleton in 9th, Katie McHale 22nd & Alice Lightfoot 63rd to give the team a 5th place finish. It was also good to see Clare Sykes back competing again and finishing 71st.
The U13 boys team of George Heppinstall 6th, Benjamin Read 8th and Edward Dunbavin 11th did very well to win team silver, just 5 points behind winners City of York. The U15 boys team of Sam Convery 13th, Daniel Franks 15th & Logan Gibb 24th finished 5th team, with the 'B' team of Robert Sanderson 31st, William Ingram 32nd & Cameron Dye 43rd also doing well to finish 8th team, and 1st 'B' team. The U17 mens team won silver medals, led home by Steve Eastwood in 8th and followed home by Jake Worton in 10th & Ben Daggett in 19th. Jack Mitchell wasn't too far behind in 22nd.
Jack Hallas had his first taste of senior cross country, and showed he is back on form with an excellent 7th place finish. Paul Lockwood also ran very well to come 20th, and with Chris Price 41st, John Mason 49th, Chris Ward 56th & Tony Smith 126th the senior mens team finished 4th, their best team result for many years.
Results of all races from Northern Athletics.

2nd Jan 2011. Manchester Indoor Open Meeting.
A few Harriers turned out at the latest Reebok Manchester Indoor Open Meeting at Sport City, with new PBs recorded by several athletes. Meeting Results from Power of 10.

2nd Jan 2011. Some Good Performances in Sheffield Open Cross Country Races.
A sizable contingent of Harriers competed in the Sheffield Open Cross Country Races at Graves Park, with some good performances. The fields were quite small, but there were fine runs from Steve Eastwood (2nd U17M), Sam Convery (5th U15B), George Heppinstall (5th U13B), Rebecca Firth (3rd U15G) & Chloe Fitton (4th U13G). Results from Power of 10.

1st Jan 2011. Another Victory on the Fells for Annabel Mason.
Annabel and John Mason have been the most prolific racers in recent weeks, and in their latest fell race young Annabel was victorious yet again. In the Giant's Tooth 3 mile fell race near Halifax, Annabel was able to compete in the Senior race and she came 15th overall and first female, just missing the female course record by three seconds in 19 mins 30 secs. John also did well to come 6th overall, and first M40.

31st Dec 2010. UK Senior Rankings for 2010 - Club has 9 top 50 Ranked Athletes.
In the World and UK top 50 rankings, published recently in Athletics Weekly, the club did well to have 9 athletes in the UK top 50, and with one athlete ranked in the World's top 50.
Emily Freeman & Charlene Thomas were not able to perform at their best because of injury, and failed to make the world's top 50 this year, but we still had one world ranked athlete. Martyn Bernard was Top of the UK Rankings in the High Jump with his best of 2.29m, which ranked him equal 16th in the world!

The club had 8 athletes in the UK Senior Women's Top 50 Rankings :-
Emily Freeman was ranked 2nd= in the 200m (23.21) & 14th in the 100m (11.62) ;
Charlene Thomas was 9th in the 1500m (4:10.31) & 14th in the 800m (2m 02.56) ;
Zara Hohn was 5th in the 100m Hurdles (13.41/13.25w) ;
Caroline Nutt was 34th= in the Pole Vault (3.40m) ;
Sarah Drake was 46th in the Hammer (46.83m) ;
Naida Bromley was 48th in the Javelin (40.92m) ;
Julie Briscoe was 12th in the Marathon (2h 40:46), 16th in the 10 Miles (58:29), 24th in the Half Marathon (1h 16:50) & 31st in the 10Km (34:40) ;
Helen Singleton was 45th in the 10Km (35:00).

The club had 1 athlete in the UK Senior Men's Top 50 Rankings :-
Martyn Bernard was ranked 1st (outdoors) in the High Jump (2.29m).


31st Dec 2010. UK Track & Field Junior Age Group Rankings for 2010.
In the UK age group top 20 rankings, published recently in Athletics Weekly, the club once again has several athletes ranked, so congratulations to them all :-
U13G Lauren Higson was 17th= in the 75m (10.3).
U15G Abigail Roberts was 4th= in the Pole Vault (2.95m) ; Zoe Kerins was 15th in the 300m (42.8).
U17W Samantha Brook was 9th in the 300m Hurdles (44.99) ; Grace Eyles was 15th in the 300m (40.59) ; Abigail Roberts (U15) was 20th= in the Pole Vault (2.95m) ; Rebecca Watts was 20th= in the 200m (25.1).
U17M Benjamin Holmes was 11th in the High Jump (1.95m).
U20M Jack Hallas was 14th in the 1500m (3m 48.89) & 16th in the 800m (1m 52.02).


Top | Home


Club News and Reports Archives

The Power of 10
Results Index

Leading Club Performances
2011 Women & Men
2010 Women & Men
2009 Women & Men
2008 Women & Men
2007 Women & Men
2006 Women & Men
2005 Women & Men
2004 Women & Men
2003 Women & Men
2002 Women & Men
2001 Women & Men
2000 Women & Men


---