McDonald's YA League

Report by: Martin Cunnane
---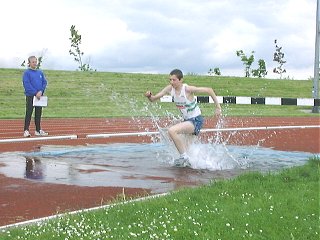 Wakefield Harriers' boys who had won their opening McDonald's match at Hexham, faced stiffer opposition at Herringthorpe Stadium with local rivals Bingley and host club Doncaster & Stainforth, as well as improving outfit Cleethorpes.

But despite being desperately short of athletes, the Harriers' youngsters competed in determined fashion throughout the day's proceedings knowing that a top-two finish would suffice if they are to gain promotion to the premier division.

Wakefield's tremendous team effort failed to secure a win in the match, mainly due to being unable to fill events because of a shortage of available athletes, but they did get second on 185.5 points behind Bingley who racked up 238. Cleethorpes were third with 164, and Doncaster & Stainforth brought up the rear with just 101.5.

In the U17 men's competitions, Alex Senior demonstrated his middle distance prowess once again. Following on from his super win in the Yorkshire 800m championships at Spenborough earlier this month, he produced a powerful front-running performance in the A 1500m that was far too strong for the opposition.

Senior ploughed a lone furrow, steadily pulling well clear to eventually cross the line 50 metres clear of runner-up G Dobbs of Cleethorpes in a speedy 4 mins 11.9 secs, just less than a second outside the AAA Grade 1 standard for the distance. Senior's spectacular performance earned him the overall McDonald's track athlete of the match award.

He went on to record maximum no 2 in the B 3000m, winning easily in 9 mins 55.8 secs before ending his day's exertions with a 54 secs 400m relay leg to help the squad of Richard Markey, Michael Walker and Steve Faulkner to second place in a combined time of 3 mins 55.9 secs.

Another of the 400m relay squad to perform admirably was Faulkner who ran his best race since suffering injury just before last July's English Schools finals in the U17s A 800m.

Faulkner also employed front running tactics and his steady injections of pace had soon strung the field out with only Cleethorpes' Robert Goodwin able to stay in touch.

Goodwin made his move approaching the last bend and, despite Faulkner's best efforts, forced his way to the front to eventually win by just over three seconds from the Wakefield youth who recorded an encouraging pb of 2 mins 06.3 secs. Faulkner looks to have real talent and, with careful training, could turn into a top-class performer.

Danny Cunnane made a reappearance in club colours and, despite turning down the offer of a place in the pole vault were he was UK-ranked no 1 in 1997 and without a training schedule for well over 12 months, he proceeded to complete a valuable field A string double.

He won both the javelin and discus events by wide margins but was denied a notable A treble by Humberside hammer champ' Rob Drury who beat the Wakefield youth by under three metres with a McDonald's overall field athlete of the match winning throw of 47.01m.

Specialist high jumper James Wild aggravated a hamstring injury in his favoured event, and had to settle for third place in the A high jump after being forced to withdraw.

Wild refused to be downhearted despite this set-back and volunteered to compete in both the B competitions of the hammer and discus. He claimed a win in the hammer and third in the discus to provide unexpected but highly valuable points.

Much-improved sprinter Matthew Young, who had finished second behind club-mate Jonathan Shearn in the 200m final at the Yorkshire championships, turned the tables in the combined A and B 200m. Running on strongly, he registered his first-ever victory over team-mate Jonathan Shearn, winning by a tenth of a second in 23.9 secs for maximum A points. Shearn completed the double by doing likewise in the B event.

Young went on to add to his personal haul by winning the B long jump before ending his individual contribution by completing a notable A-string track and field double with a win in the A triple jump.

Shearn went on to power his way to victory in the A 100m and then teamed up with Young, John Uridge and Michael O'Connor to anchor the sprint relay squad to a welcome victory over Cleethorpes in a combined 48.9 secs.

Another of the sprint relay quartet, Uridge, justified his place in the team by winning the B 100m comfortably in 12.5 secs as well as finishing second in the B trip jump and third in the A long jump.

Sprint relay performer O'Connor had earlier made his club debut in the 400m hurdles, staying on stoutly to take second spot in the B race. He went on to notch his first maximum by winning the B high jump and is likely to make vast improvement especially over the flat 400m, a distance that is sure to suit his build and style of running.

Richard Markey weighed in with second place in the B 1500m as well as finishing second in the A shot.

Michael Walker led the 3000m for a long way before having to give best to Cleethorpes' Harry Turner who went on to win by just over 11 seconds in 9 mins 43.5 secs.

Walker, who clocked a pb 9 mins 55 secs, also finished second in the lung-bursting 1500m steeplechase, demonstrating his resilience with a performance that promises much in the way of upgrading.

In the U15 boys' competitions Mark Lindsay again played a major part. Lindsay started with a win in his favoured event the A javelin, earned with a best on-the-day throw of 42.75m. He went on to complete maximum no 2 in the A shot with a best putt at a pb 11.13m. Lindsay picked up maximum no 3 by winning the B discus as well as running a, leg in the sprint relay.

Charles Handley also provided valuable points in the U15s field events, winning the A discus with a competent 31.01m throw as well as winning the B shot with a 9.78m putt. Handley, in his first year in the age group ended a successful day's labours by earning maximum no 3 with a win in the A hammer competition.

Martyn Bernard demonstrated his jumping prowess again in the A high jump, registering a comfortable victory with his best clearance of 1.70m. Bernard also finished second in both the A 400m and B hammer competitions.

On the track, Colin Mallett recorded a pb 59.1 secs to win the B 400m by two tenths of a second from Cleethorpes' Mark Raper, and then went on to set another pb in the A 200m, clocking 25.5 secs for third.

In the B 200m, first year U15 John Fletcher also set a new pb mark, recording 25.7 secs to finish third. Fletcher went on to place second in both the A long jump and B high jump competitions.

Also in the age group, Lee Speight provided the points from second in the B javelin, third in the B long jump and fourth in the B 100m.

In the U13 boys' section of the match, James Fox was outstanding. He ran powerfully to notch a good A-string sprint double, winning the 200m in 29.7 secs and the 100m in 14.6 secs. Fox went on to complete a notable A-string treble by prevailing in the A shot with his best putt of 6.93m.

Jamie Wilson completed the shot A and B double for Wakefield with a win in the B shot, and followed up with a third place in the B 100m.

Mark McClellan ran an improved, 2 mins 48 secs flat in the A 800m, finishing strongly after a conservative start but just failing to get on terms with the winner, B Ambler of Bingley. McClellan finished a respectable second and looks likely to improve over the next couple of months.

Other Wakefield team members were: Nick Bradley, Stephen Brennan, lan Wainwright, Gavin Morley, Justin Eastwood, Alistair Lenighan and Ry Lodge-Brown.