McDonald's Boys YA League

Report by: Martin Cunnane
2nd May 1999 - Wentworth Stadium, Hexham
---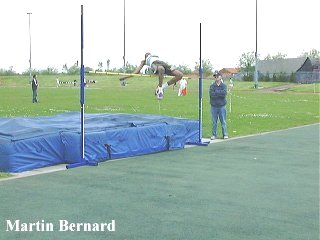 Wakefield Harriers' U17, U15 and U13 boys' squad made the long trip to Wentworth Stadium, Hexham where, despite being desperately short of performers, the athletes on duty put up a tremendous battle.

A splendid team effort saw them end the day as surprise, but well deserved winners of their opening Division 1 fixture in the McDonald's Young Athletes League. They ran away with the match to win by a massive 87 point margin with 193 points from Shildon, second on 106, Jarrow third on 98, and Seaton bringing up the rear on just 53.

In the U15 boys' section, Martyn Bernard once again demonstrated his all-round talents by racking up a sparkling track and field A string double. He won the A high jump by a wide margin with a pb clearance of 1.76m, a performance that earned him the McDonald's overall field athlete of the match award, and then the A 400m in 59.5 secs. He ended his individual contribution with a win in the B section of the unfamiliar hammer.

Also in the U15s, John Fletcher was in good form. He completed an A double by winning the long jump with 4.96m after starting the day with victory in the 200m, where he recorded 25.9 secs. Fletcher also finished third in the A 100m.

Colin Mallett gave good support, ensuring an A and B 200m double by clocking 26.1 secs to collect maximum points in the B 200m. He then won the B 400m in 60.4 secs before completing a valuable B string treble with victory in the 100m in 12.6 secs.

Charles Handley kept the points total moving on nicely, starting with a comfortable victory in the A hammer. He followed up by winning the B shot with his best putt of 10.00m, and ended his personal contribution with second place in the A discus.

Mark Lindsay gave another series of promising performances in the throws, easily taking care of the opposition in his favoured event the javelin where he collected maximum points with a 41.29m effort. He went on to complete an A double by prevailing in the shot with his day's best putt of 10.1Om. Lindsay ended his contribution by completing a treble, winning the B discus with 26.18m.

Lee Speight finished runner up in the B long jump with his day's best on-the-day leap of 4.09m.

There were several noteworthy individual performances in the U17 men's competitions headed by yet another quality performance from Yorkshire 800m champ' Alex Senior who destroyed the opposition with a controlled front running feat that soon had the field floundering. He kept on strongly to win by a wide margin in 2 mins 03.1 secs. Senior also put in a tremendous leg in the 4x400m relay, helping Richard Markey, Paul Lockwood and Steve Faulkner to victory in 3 mins 51.8 secs after running a storming 53.4 sees third leg.

Markey had earlier won the B 1500m in 4 mins 40.6 secs and then completed a B treble with victory in the 400m.

Another of Wakefield's hard-worked 400m relay quartet, Lockwood, had looked a likely winner of the A 1500m before tiring late on to finish second in 4 mins 30 secs. Lockwood also won the A shot, an unfamiliar event for him.

Michael Walker finished second in the A 3000m beaten by just under 15 seconds by Martin Turnbull of Jarrow. But the Wakefield youth is capable of much better and is sure to improve as the season progresses.

Steve Faulkner ran well in the B 800m, winning in 2 mins 14.0 secs, he then went on claim maximum points in the B hammer event.

Yorkshire U17 200m silver medallist Matthew Young again showed terrific early speed in the A 200m, getting closed down over the last 30 metres by Jarrow's top northern sprinter Adam Rodgers. He eventually had to settle for second place in a pb 23.8 secs. Young went on to score maximum points in the A 400m before closing his personal tally with victory no 2 in the B triple jump.

Alan Ruddock also set a pb time, finishing second in the 100m in a speedy 11.6 secs. He went on to finish in the same position in the A long jump with 5.64m. Ruddock ended with a comfortable win in the B 200m.

John Uridge weighed in with a valuable victory in the A triple jump before completing a notable track and field double by claiming maximum no 2 in the B 100m. Uridge teamed up with Ruddock, Young and Senior to win the sprint relay from the Jarrow quartet in a combined 48.1 secs.

James Wild claimed victory in the A high jump despite competing with a strained hamstring. He wisely withdrew from the competition after the points were in the bag with a best clearance of 1.75m. Wild completed a valuable A double with victory in the hammer, and completed an A treble with win no 3 in the discus.

In the U13 section James Fox sprinted powerfully to complete a notable A sprint double, winning the 200m comfortably in 29.9 secs five metres clear, and took the 100m A race by a whisker in 14.4 secs.

Alastair Lenighan kept on bravely to claim maximum points in the B 1500m and completed a B string double by prevailing in the B long jump.

Gavin Morley also kept on in determined fashion to finish third in the A 1500m before ending his personal contribution with second place in the B 100m in 15.7 secs, beaten by just a tenth of second.

Stephen Brennan finished second in the B 200m, clocking 34.4 secs and followed up with second in the B shot. lan Wainwright occupied the same position in the A 800m, recording 2 mins 44.6 secs as well as finishing third in the A shot.

Ry Lodge-Brown made his club debut by scoring valuable points for a second place in the B 800m and third in the A long jump before going on to help team-mates Wainwright, Brennan and Fox to second place behind Seaton in the 4xl00m sprint relay.

Wakefield's unexpected victory will have given them a much-needed boost for the second of the McDonald's League fixtures which will take place at Rotherham's Herringthorpe Stadium, but with both the improving squads of Bingley and Cleethorpes in attendance, the Harriers will be hard pushed to maintain their 100 per cent record. They need to strengthen the team if they are to gain promotion this season.