2010 Club News January - March
28th Mar 2010. Harriers Compete at Spenborough Open Meeting.
There were several Harriers competing in blustery weather conditions at Spenborough, in the Ivan Stringer Memorial Open Meeting. U17 Beth Sharp knocked 3 seconds of her 400m PB to run 61.5s and finish 2nd, and Grace Eyles also performed well, winning the U17L 100m in 12.7s and finished 2nd in the 200m in 26.0s. There was also a good performance from Jake Worton finishing 1st in the U17M 1500m in 4m 38s, and from Sam Convery winning the U15B 800m in 2m 12.1s. Sarah Drake had a good throw of 44.15m in the senior Hammer. Download Results in Excel.
28th Mar 2010. Julie Briscoe Wins Liverpool Half Marathon in Fast Time.
Julie Briscoe continued her winning form to finish first lady at the Liverpool Half Marathon, in an excellent time that was just a few seconds off her club record from 2004. She finished 4 minutes clear of the next lady, in 8th place overall out of over 4500 runners, in a time of 76 mins 57 secs, and is looking good for her marathon debut in Edinburgh. Race Results available from tdl.ltd.
28th Mar 2010. Harriers Warm up for London Marathon in 20 Mile Road Race.
As part of their build up for the London Marathon or Three Peaks race several Harriers took part in the East Hull 20 Mile road race, and did very well. Carl Quinn was our first runner home in 59th place out of nearly 400 runners, in a time of 2 hrs 19 mins 44 secs, with Helen Beck our first lady, and 8th lady overall, in 2 hrs 28 mins 11 secs. Download Results in Excel.
28th Mar 2010. Victory for Helen Singleton & Two Team Victories in Wakefield Hospice 10k.

The annual Wakefield Hospice 10k race again attracted a large field of over 1000 runners, with many Harriers competing in the event, which incorporated the Club 10k Road Race Championships. The strong wind meant that all times were slower than expected, but Helen Singleton was an excellent winner of the ladies race in 36 mins 25 secs, and with Jasmine Kerry doing well in her first 10k, and Julie Greenwood not far behind, the ladies were first team home. Nathan Elliott finished 8th overall in 34 mins 30 secs, and he was well supported by Sam Bucknall & Paul Hallas for another clear team victory, with the 'B' team of Tom Coney, Neil Dutton & young Matthew O'Connor, running his first 10k, showing the club's dominance by finishing 2nd team. Paul once again was the first to finish in the M50 category. Race Results

Helen Singleton & Nathan Elliott
Wakefield Harriers 10k Champions for 2010
pictured with Club President John Newsome.
27th Mar 2010. Rebecca Firth Selected to Run Cross Country for England.
As a result of her excellent 5th place in the Junior Girls race at the English Schools' Cross Country Championships, Rebecca Firth became the club's latest international runner. She was selected to run for England Schools in the Home Country Schools Championships at the SIAB International Match at Truro in Cornwall. She didn't have the dream debut she was hoping for unfortunately, as problems on the railways meant she had a difficult journey to get there, and then in the race she was running well, and in 5th place, before having to withdraw with a knee injury. In spite of these problems our congratulations to Rebecca on her first international selection, and let's hope this is just the start of a long and successful running career for her.
21st Mar 2010. Julie Briscoe Wins City of Lincoln 10k Road Race.
Julie Briscoe continued her fine form to finish first lady at the City of Lincoln 10k Road Race. She finished 28th overall out of over 4000 runners, in a time of 35 mins 15 secs, and was once again very close to her PB, so it is only a matter of time before she breaks through the 35 minutes barrier. Download Race Results.
21st Mar 2010. Good Team Performances at Northern Road Relays.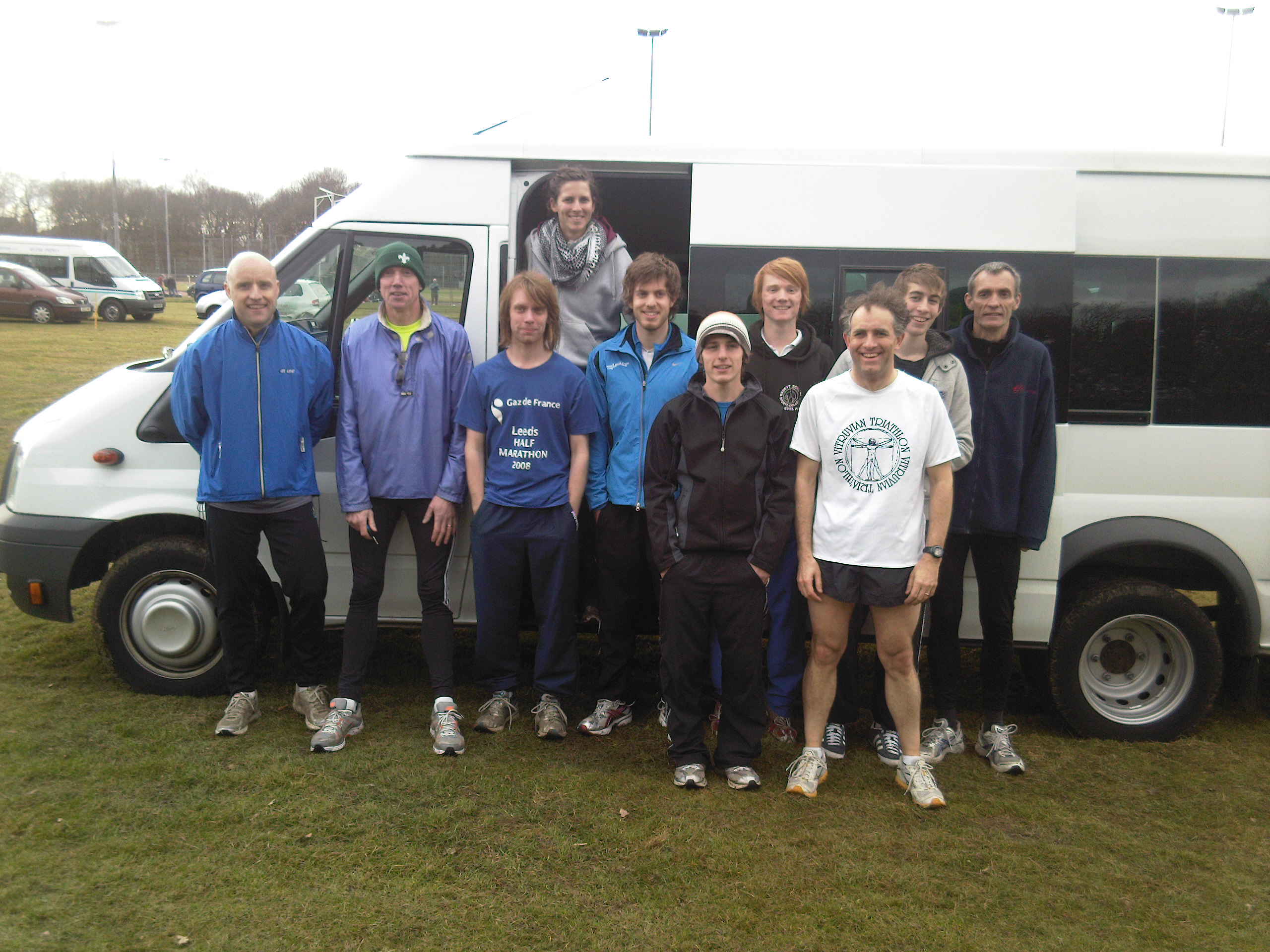 The club were missing top runners from both the men's and women's teams, but still put in good team performances at the Northern Athletics Road Relays at Wythenshawe Park, Manchester.
The women's 6-stage team of Helen Singleton, Katie McHale, Sharon Marshall, Sarah Bostwick, Jasmine Kerry & Shirley Griffiths finished a highly respectable 9th, with Helen having an excellent run, just failing to win leg 1, with what turned out to be the 5th fastest time of the day. The men's team of Peter McNamara, Chris Ward, Nathan Elliott, Thomas Coney, Sam Bucknall, Neil Dutton, Nathan Bolton, Paul Hallas, Steve Faulkner, Richard West, Steve Wilkinson & David Dawson came 33rd in the high class 12-Stage field, with Nathan Elliott being the team's fastest runner on the long stage, and Paul the quickest on the short stage.
Women's Results and Men's Results from race-results.co.uk.

20th Mar 2010. Rebecca Firth 5th in English Schools' Cross Country Championships.
The club had several members representing West Yorkshire Schools, and running very well in the English Schools' Cross Country Championships at Heaton Park, Manchester. Star performer was Rebecca Firth, who despite being at the lower end of the age group came an outstanding 5th in the Junior Girls race, to cap an outstanding first cross country season. Ben Homer was 4th counter for West Yorkshire with his 128th place in the Senior Boys race, and Alice Lightfoot was 6th counter in 119th place in the Senior Girls race. In the Intermediate Girls race Sally Smith was the county's 2nd scorer in 82nd, and in the Junior Boys race Sam Convery finished 194th, to complete another good day for the club's young distance runners.
See Adam Kerfoot's album of West Yorkshire runners which includes many Harriers, and Download Full Results of all races from ESAA website.

13th/14th Mar 2010. Zara Hohn Wins BUCS Indoor 60m Hurdles Title Again.
For the third year running Zara Hohn has become the British Students Indoor 60m Hurdles Champion, winning the BUCS Indoor Championships at the EIS Sheffield in 8.38s, exactly the same time as last year ! Several other Harriers were competing, representing their universities or colleges. Jack Hallas won his heat of the 1500m in 4m 00.27s, but couldn't then progress from the semi-final. Andrei Pobishan ran 51.08s in the heats of the 400m to qualify for the semi-final, and Lewis Tatt ran 1m 59.07s in the heats of the 800m & 4m 10.13s in the heats of the 1500m.
Results from BUCS.

14th Mar 2010. Zoe Kerins Close to Club Record at Leeds Indoor Open Meeting.
Zoe Kerins competed in the Leeds Indoor Open Meeting, and was just outside the U15 Club 60m Record with her winning time of 8.2secs.

14th Mar 2010. Harriers In Action on the Fells.
Martin Green and Neil Penn competed in the Wolfs Pit Fell Race at Bamford in the Peak District, a 5.8 mile race with 1600 ft of climbing. Neil came 7th in 46min 17secs and Martin 10th in 47min 17secs.

13th Mar 2010. Great Performances at Inter-Counties Cross Country Championships.
Several Wakefield Harriers were selected to compete for Yorkshire in the Inter-Counties Cross Country Championships at Birmingham's Cofton Park, which for the senior athletes included the trials for the World Cross Country Championships. Charlene Thomas showed that her comeback is going well with an excellent 17th in the Senior Women's race, and Julie Briscoe was also in great form to come 29th and help Yorkshire to come 2nd in the team event. Rebecca Firth was an outstanding 4th in the U13 Girl's race, just 1 second outside the medals, with Annabel Mason also doing well to come 82nd. Sally Smith was competing in the U17 age group and ran well to come 40th, and Libby Greatorex also performed admirably to come 125th in the U15 Girl's race. For the boys Sam Convery was 167th in the U13 Boy's race, with Ben Read 221st, and Jake Worton was 119th in the U15 Boy's race. Report and Race Results in Excel from UKA.

7th Mar 2010. Several Harriers Compete in Norton 9 Mile Road Race.
The club had several runners competing in the Norton 9 Mile Road Race, near Doncaster, with Carl Quinn our first runner home, coming 37th in a time of 55 mins 27 secs. Race Results from ukresults.net

7th Mar 2010. Yorkshire Vets Grand Prix Series Race 1.
The veteran men took part in the first of the Yorkshire Vets Grand Prix series, at Meltham, and finished 5th team overall. The four scorers were all over 50, and were led home by the in-form Peter McNamara, who finished in an excellent 7th place overall and first in the M50 category.
Race Results from YVAA.

6th Mar 2010. England U17 & U15 Indoor Combined Events Championships.
Bethany Porter and Danielle Anderson competed in the England U17 & U15 Indoor Combined Events Championships at the EIS in Sheffield, doing well to finish 20th & 22nd respectively in the U17 Pentathlon. Meeting Results.

27th/28th Feb 2010. Abigail Roberts Wins England Athletics Indoor U15 Pole Vault Title.
At the England Athletics U20, U17 and U15 Indoor Championships at the N.I.A. in Birmingham, a small number of Harriers took on some of the best young athletes in the country. Abigail Roberts continued her outstanding form, improving her own U15 and U17 Pole Vault Club Records, vaulting an impressive 2.90m in winning the U15 pole vault title. Zoe Kerins was also impressive in finishing 5th in the final of the U15 Girls 200m in 26.31 secs, as well as producing a fast 60m run in 8.21 secs in the semi-final the day before. Rebecca Watts qualified for the semi-final of the U17 Ladies 60m with her heat in 8.17s. The club's talented High Jump squad were out in force, with William Mulroy jumping 1.86m to finish 11th in the U20 Men's event, and in the U17 Men's competition Tom Leyshon was 8th with 1.85m, and Ben Holmes 13th with 1.76m.
Meeting Results from England Athletics.

27th Feb 2010. Lauren Proctor & Rebecca Firth Finish in Top 10 in National.
The club had many runners taking part in the English National Cross Country Championships at Roundhay Park in Leeds, competing against the top cross country runners in the country. Star performance was from Inter-Counties Champion Lauren Proctor, who was running her first race after a long absence and finished an outstanding 5th in the U17 Ladies race, and first finisher from the north. This was the club's best individual performance in the National for many years, but not far behind was Rebecca Firth, who in her first year of running finished an excellent 8th in the U13 Girl's race. Annabel Mason also ran very well to finish 37th, and with Sophie Woolin 184th & Saskia Lewis 243rd the U13 Girl's team finished an excellent 18th. The U13 Boy's team of Sam Convery 89th, Benjamin Read 106th, William Ingram 124th & George Heppinstal 194th finished a superb 14th, and first Yorkshire club. The best team result however was from the U15 Boys, where Jake Worton finished a superb 15th, to lead home the team of Matthew O'Connor 86th, Jordan Turner 118th & Daniel Franks 124th to an excellent 10th place, and again first Yorkshire club. The U15 Girl's team of Libby Greatorex 110th, Jessica Timmins 112th, Hannah Marsh 250th & Jessica Rowlands 263rd finished 26th team.
In the Senior Men's race the Harriers packed well to finish 43rd team, the club's best result for many years. The 6 scorers were Chris Price 229th, Chris Ward 524th, Martin Green 535th, Peter MacNamara 541st, Neil Penn 603rd & Steve Faulkner 613rd, out of the large field of over 1400 runners. Disappointingly there was no complete Harries Ladies team, but Jasmine Kerry ran very well to finish 145th out of over 500 runners.
Race Results from English Cross Country Association.

21st Feb 2010. Abigail Roberts Equals her U15 Pole Vault Club Record.
Abigail Roberts competed at the latest Reebok Manchester Indoor Open Meeting at Sport City, and she maintained her consistency, equalling her own U15 & U17 indoor pole vault record with 2.75m. Not bad for a 12-year old !
See Abigail when she first jumped 2.75m on YouTube, courtesy of Alan Spurr.

20th Feb 2010. Zara Hohn Competes in Televised Aviva British Grand Prix.
Wakefield Harriers' sprint hurdles star Zara Hohn was invited to compete at the televised Aviva British Grand Prix, at the NIA in Birmingham, and she finished 6th in the 60m Hurdles in 8.36s. Results from UKA

20th Feb 2010. Five Gold Medals at the Yorkshire Cross Country Championships.
The club successfully hosted the Yorkshire & Humberside Cross Country Championships at Thornes Park, after having had to postpone the event from it's original January 9th date. The club also had one of it's most successful championships, with two individual winners in Jack Hallas and Rebecca Firth, three team victories, and several other medals.
Detailed Report, Full Results and Pictures.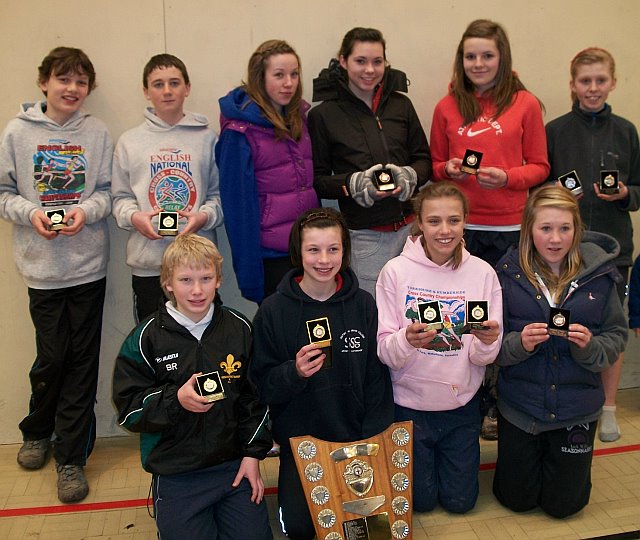 Some of our medallists from the Yorkshire Cross Country Championships
17th Feb 2010. Harriers in Action at RAF & Inter Universities Championships.
Several Harriers were competing for their universities at the RAF & Inter Universities Indoor Championships at Sheffield, with some good performances. Jack Hallas warmed up for the Yorkshire Cross Country with a couple of 2nd places in the 800m & 1500m, running 1m 56.83s and 4m 08.86s, and Andrei Pobischan came 3rd in the 400m in 50.91s. Results from Power of 10.
13th/14th Feb 2010. Two of Wakefield's Internationals Compete at the UK Indoor Champs.
At the Aviva World Trials & UK Indoor Championships at the Sheffield EIS, the club had two of it's international athletes competing. High Jump star Martyn Bernard made a surprise appearance in the 400m, running a useful PB of 49.83 secs in the heats, but Zara Hohn was disappointed to have been disqualified in the final of the 60m Hurdles, after running an encouraging 8.34s in her heat.
Results from UK Athletics.
11th Feb 2010. Harriers Selected for English Schools Cross Country Championships.
Our congratulations to Sally Smith, Rebecca Firth, Libby Greatorex, Jessica Timmins, Alice Lightfoot, Danny Franks and Ben Homer from the Harriers, who have all been selected to run for West Yorkshire Schools at the English Schools Cross Country Championships at Heaton Park Manchester on Saturday 20th March. Teams selected and details of event.
11th Feb 2010. Thornes Park Stadium Indoor Athletics Meeting.
There was a good turnout of young athletes for the Indoor Athletics Meeting at Thornes Park Stadium. Download Results in Excel.
7th Feb 2010. Three Harriers Selected to Compete in the McCain Indoor City Challenge.
Three Harriers were selected to compete for the 'Sheffield Flames' team in the first of this season's McCain Indoor City Challenge at the EIS in Sheffield, against other teams from all over the country. Zara Hohn confirmed her recent good form with victory in the 60m Hurdles in 8.41s, whilst Helen Singleton came 5th in the 800m in 2m 13.46s, and Mikaela Harrison ran 60.56s to come 7th in the 400m. Download Results
7th Feb 2010. Julie Briscoe Close to her PB in Dewsbury 10k Road Race.
Julie Briscoe confirmed her recent fine form from the Northern Cross Country Championships by running an excellent 35 mins 17 secs at the Dewsbury 10k Road Race, which is not far from her PB. She finished 40th overall out of over 800 runners, and 4th in a very high class ladies field. Sarah Bostwick Beevers ran a fine 38 mins 28 secs and young Jack Mitchell did well to run 39 mins 12 secs in his first 10k, a minute ahead of his dad Chris. Julie Greenwood was our 3rd lady in 42 mins 23 secs to complete the ladies team, who finished 2nd in the team race, losing by just 10 seconds aggregate time to Hallamshire. Race Results from Dewsbury RR.
6th Feb 2010. West Yorkshire Schools Cross Country Championships.
There were several Harriers competing for the Wakefield District and for other schools areas in the West Yorkshire Schools Cross Country Championships, which took place at Silcoates School. Sally Smith was a clear winner in the Intermediate Girls race, and there were also good results from Rebecca Firth, 2nd in the Junior Girls race, and Jessica Timmins, Alice Lightfoot & Ben Homer who were all 4th in their respective age group races. Results from Silcoates
2nd Feb 2010. Aine Hoban Wins 5k Road Race in New Zealand.
Our former international cross country runner Aine Hoban is clearly in decent form, as she won a 5k Road Race at Christchurch in New Zealand, in the good time of 17 mins 26 secs. This was actually a PB for her on the road, though she has run the club record of 15 mins 53.42 sec for 5000m on the track, in 2007.
2nd Feb 2010. New Club Record at 60m Hurdles for Zara Hohn at Vienna.
At the Indoor Classic Meeting at Vienna in Austria the club's international sprint hurdles star Zara Hohn won her event, running a New Club 60m Hurdles Record of 8.22s, after running 8.33 secs in the heats. Two days earlier she had had another win, running 8.35s at the Elan Meeting in Bratislava in Slovakia, and has been getting progressively quicker at each indoor meeting this year.

31st Jan 2010. Wakefield Harriers Ladies Finish 1st in Long Distance Relay in France.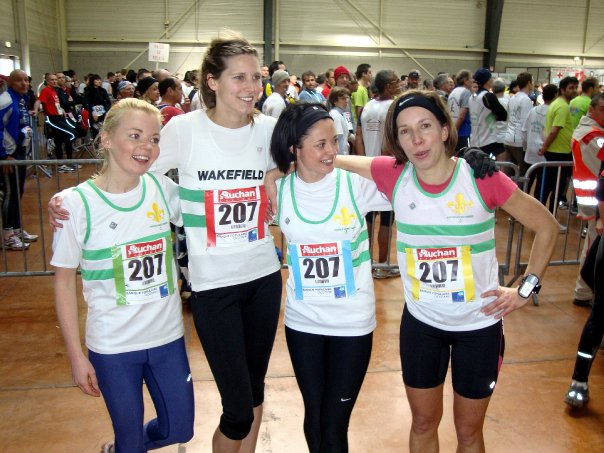 The Harriers were once again invited by Wakefield's twin town of Castres in France to take part in their long distance relay race, the 28th Ronde Givree. 14 Wakefield athletes competed in 4 teams, and once again came back with 2 trophies. The ladies team of Jasmine Kerry, Helen Beck, Alex Potter and Anna Gaches ran magnificently to win their category, and the M50 team also had their best result so far to come 2nd in their category, and 28th overall out of the 240 competing teams. For the men's team who finished 23rd overall Chris Price was outstanding on leg 1 to finish 3rd.
Results from Race website

29th Jan 2010. Legendary Coach Wilf Paish MBE Dies Aged 77.
The club is saddened to hear of the death of legendary coach Wilf Paish MBE, who had been ill for several years. Wilf was always a good friend and supporter of Wakefield Harriers, helping both our athletes and coaches, and was a regular on club nights in the days when we used to train at the QEGS track. As well as coaching some of Britain's top athletes to Olympic medals, he also coached some of our club's very best athletes for part of their careers. The world of athletics will be a poorer place without him.
Read tributes to Wilf from Northern Athletics and UK Athletics

26th Jan 2010. Chris Mitchell Wins 2009 Senior Christmas Handicaps.
The 2009 edition of the annual Christmas Handicap race, postponed several times because of the big freeze, finally took place on the 26th January. There was a good turnout of 36 runners, with several of the new and younger club members taking part for the first time. This year's dark horse was Chris Mitchell, who had a 3 second victory over Ryan Hartley, with Ian Shipley another 2 seconds further back. Helen Beck was first lady home in 7th place, Nathan Elliot was fastest overall for the 4th year running, and Helen Singleton was once again the fastest lady.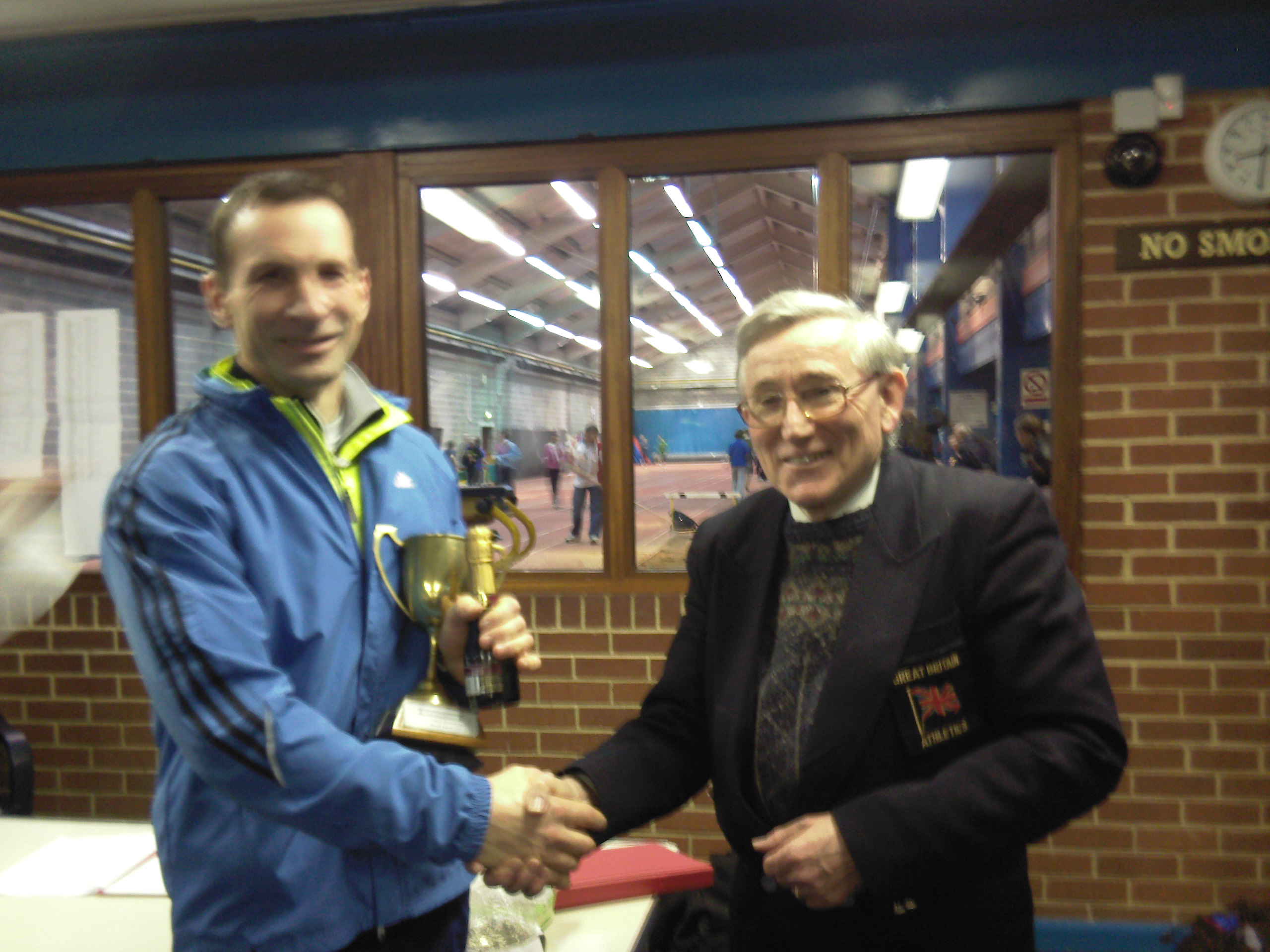 Chris Mitchell receiving the Handicap Trophy from Club President John Newsome


The handicapper did a good job this year, with no runaway winner, and with two thirds of the runners racing it out on the track at the end of the 4.5 mile course. Adam Cooper used all his experience to run his estimated time exactly, and Jasmine Kerry and Martin Holding were just one second off their expected times. Nathan is proving the most consistant of all the runners, his time varying by no more than 7 seconds over the last 4 years ! Download Full Race Results in Excel.

24th Jan 2010. Harriers Compete in 'Brass Monkey' Half Marathon at York.
There were several Harriers running in the 'Brass Monkey' Half Marathon at York. Carl Quinn was our first runner home in 1hr 23 mins 42 secs, which placed him 113th overall out of the large field of over 1500 runners. Several other runners recorded PBs on the flat and fast course.
Full Results from ukresults.net

23rd Jan 2010. 5th Places for Julie Briscoe & Rebecca Firth in Northern Cross Country Champs.
In the Northern Cross Country championships at Witton Park Blackburn, the club had a good day, with Julie Briscoe in particular running outstandingly well. Despite the tough course and sticky muddy conditions she did outstandingly well to finish 5th in the senior ladies race, after leading in the early stages, and there were also some solid team performances in the younger age groups.
The best team result came as expected from our strong U15 boy's team, who were 5th team and not far from the medals. Jake Worton was an excellent 18th, and he was backed up by Matthew O'Connor in 45th, Jordon Turner 47th & Daniel Franks 61st. The U13 girl's team also did very well to come 7th, led home by new member Rebecca Firth who showed her great potential with an outstanding 5th place, and she was well supported by Annabel Mason in 34th, Stephanie Rodgers 50th & Saskia Lewis in 101st. Sam Convery led the U13 boy's team home in 33rd, and with William Ingram 65th, Benjamin Read 77th & George Heppinstall 129th the team finished 13th. The U15 girl's team of Libby Greatorex 33rd, Jessica Timmins 57th, Jessica Rowlands 108th & Hannah Marsh 120th were 12th team. The senior men's team of Chris Price 127th, John Mason 192nd, Chris Ward 212th, Martin Green 220th, Pete McNamara 244th & Peter Young 419th finished 22nd out of 49 teams, and 4th team from Yorkshire.
In the races where we didn't have complete teams there were also fine performances from Sally Smith, who finished an excellent 9th in the U17 ladies race, Katie McHale 17th in the U20 ladies races, Jack Hallas 14th in the U20 men's event, and Sarah Boswick 47th in the senior ladies race.
Results of all races from Sportsoft.

16th/17th Jan 2010. Two Titles and a Club Record in Northern Indoor Championships.
At the Northern Athletics Indoor Championships at the EIS, Sheffield, the club had many athletes competing, with Abigail Roberts and Grace Eyles winning titles, and a new club record from Bethany Porter.
Four medals were won in the senior events, with Zara Hohn returning from injury to come 2nd in the 60m Hurdles in 8.73s. Helen Singleton picked up a couple of medals, coming 2nd in the 3000m in 10m 07.01s, and 3rd in the 1500m in 4 mins 38.20s, and Mikaela Harrison was 3rd in the 400m in 59.69s, with Reagan Wright 6th in 61.85s. In the U20 men's events Tom Coney came 5th in the 800m after running a fast heat in 1m 58.48s, and Nathan Bolton also finished 5th in the 1500m in 4m 32.10s.
Best performance in the U17 men's events was by Benjamin Holmes, who cleared an excellent 1.90m to finish 2nd in the High Jump, which is a new PB and a grade 1 performance. Matthew O'Connor was 5th in the 1500m in 4m 33.04s and 6th in the 800m in 2m 16.44s.
In a close race Grace Eyles won the U17 ladies 300m in 42.87s, with Bethany Sharp winning the bronze in 43.03s. Rebecca Watts was 4th in the 200m in 26.51s, and 7th in the 60m in 8.25s, and in the 60m Hurdles Bethany Porter improved her U17 club record with 9.39s in the heats, before coming 6th in the final in 9.44s. Danielle Anderson finished 9th in the Shot with a throw of 7.20m.
There were some terrific performances in the U15 girl's events, with Abigail Roberts winning the Pole Vault with 2.60m, and with Sally Spurr 4th and Alice Cusworth 5th with 2.20m. Zoe Kerins was close to the club 60m record with 8.22s in the heats, before coming 3rd in the final in 8.26s. She also came 3rd in the 200m in 26.77, after running a fast 26.43s in the heats. Sam Lancaster was 5th in the Shot with 8.22m, and Daniel Franks was 4th in the U15 boy's 800m in 2m 25.11s, with Sam Convery 7th in 2m 31.85s.
Download full Results from Northern Athletics.

10th Jan 2010. Reebok Manchester Indoor Open Meeting.
Despite the snow and ice several Harriers turned out at the latest Reebok Manchester Indoor Open Meeting at Sport City. Download Meeting Results in Excel.

9th Jan 2010. Yorkshire County Cross Country Championships Postponed until 20th February.
Due to the heavy snow and the forecast of continuing adverse weather conditions, the Yorkshire County & Humberside Cross Country Championships that the club were to host in Thornes Park on Saturday had to be postponed. They will now be held on Saturday 20th February.

7th Jan 2010. First Indoor Open Meeting Cancelled.
Due to the heavy snow the first Indoor Open Meeting due to be held at Thornes Park Stadium had to be cancelled. The next meeting is scheduled for Thursday 11th February.

3rd Jan 2010. Reebok Manchester Indoor Open Meeting.
A few Harriers turned out at the latest Reebok Manchester Indoor Open Meeting at Sport City, with Zoe Kerins showing good form with her 8.32s 60m & 26.35s 200m, and Abigail Roberts again doing well in the Pole Vault with a jump of 2.60m. Download Meeting Results in Excel.

2nd Jan 2010. Victory for Rebecca Firth in Sheffield Open Cross Country Races.
A small contingent of Harriers competed in the Sheffield Open Cross Country Races at Graves Park, with Rebecca Firth showing her great potential by winning the U13 girls race, on her first appearance for the club. The fields were small because of the wintry weather, but Matthew O'Connor also ran well to finish 2nd in the U15 boys race. Download Results in Excel.

Top | Home


Club News and Reports Archives









The Power of 10
Results Index

Leading Club Performances
2010 Women & Men
2009 Women & Men
2008 Women & Men
2007 Women & Men
2006 Women & Men
2005 Women & Men
2004 Women & Men
2003 Women & Men


---