2006 Club News October - December
31st December 2006. UK Track & Field Rankings for 2006 - Club had 9 top 50 athletes.
The club had 8 athletes in the top 50 in the UK Senior Women's rankings, published recently in Athletics Weekly, with 3 making the top 4 ! :-
Emily Freeman had her highest ranking with 3rd in the 200m with her new club record (23.25), and 5th in the 100m with her new club record (11.40) ;
Aine Hoban improved to 4th in the 10000m (33:44.22), and was 35th in the 3000m (9:34.85) and 21st in the 5000m (16:25.25) ;
Laura Whittingham improved to 4th in the Javelin (50.28), and was also 14th in the Shot (13.49) ;
Zara Hohn (U20) had a big improvement to 8th in the 100mH with her new Club record (13.62), and 32nd in the 100m (11.91). She topped the U20 rankings in the 100mH ;
Charlene Snelgrove was 11th in the 800m with her new club record (2:02.89), and 30th in the 1500m (4:20.74) ;
Naida Bromley was 22nd in the Heptathlon (4534 pts), 27th in the Javelin (40.08) and 44th in the Shot (12.14) ;
Nicky Jackson was 41st in the Hammer (45.42);
Kelly Johnson was 47th in the 800m (2:08.06);
For the men only Chris Kirk was ranked in the UK top 50 with his 5th place, although Rimantas Martisauskas would have been ranked 11th in the Shot with his club record of 16.55m had he been a UK citizen ! :-
Chris Kirk was 5th in the Long Jump (7.63);

26th December 2006. Chris Price Finishes 4th in Ward Green '6'
At the Ward Green 6 Mile road race Chris maintained his fine form, finishing an excellent 4th in a good time of 32:02 on the undulating course.
26th December 2006. Several Harriers Compete in Otley Chevin Chase
The 7 mile race offered the usual mix of muddy tracks, steep hills, wooded sections and very muddy farmers' fields, plus the customary fantastic support from the spectators. Wakefield runners amongst the 859 finishers were Richard West 99th in 48:58, David Dawson 207th in 52:57 and Tony Audsley 272nd in 55:14.
19th December 2006. Dale Worton & Bethany Graham Win 2006 Christmas Handicaps.
Our most senior runner Stuart Anderson handed over the annual Christmas Handicap trophy he won last year to one of our youngest runners, as Dale Worton had an excellent run to win this year's race from Helen Singleton, with Nathan Elliot closing quickly in 3rd. Nathan again recorded the fastest time of the 21 runners who raced over the 4.5 mile course, just 8 seconds quicker than Chris Price. Report and Full Race Results.
There was a good turnout of runners in the younger age groups on a cold misty night. Bethany Graham was the first runner home by quite a large margin, to win the race, followed by Jake Worton and Andrew Hillerby. Fastest time round the 3000 m course was by Lauren Brooke, with an actual time of 11-23, then Jamie Lunt (11-36) and Jack Mitchell (11-44).
Report and Full Race Results.
17th December 2006. Several Harriers Compete in Denby Dale Travellers 6
Half a dozen Wakefield Harriers battled the cold and the many hills around Denby Dale to take part in the annual Travellers 6 road race. Pat Wood proved her "most improved athlete status" by running 55.48mins in the Ladies section. Steve Tibbs found the hills hard but finished 23rd in 37.43mins followed by an improving Tony Smith 33rd in 38.55mins. Tony Audsley was 102nd in 45.17mins with Stuart Anderson, 159th, in 50.18mins and Graham Whitworth, 170th in 51.50mins. Full Results from ukresults.net.
10th December 2006. Distance Runners Compete in Calderdale Way Relay
The club had a team in this tough event for the fourth year, and despite a couple of disappointing legs they still finished a creditable 37th out of 100 teams competing. The race consists of 6 legs, with 2 runners from each club running as a pair, and had many of the country's leading fell runners taking part. Steve Tibbs and new member Neil Dutton were our best performers, being 25th fastest on the 1st leg, followed by Mark Ridgway and Alan Slack who were 30th on their 6th leg. Results in Excel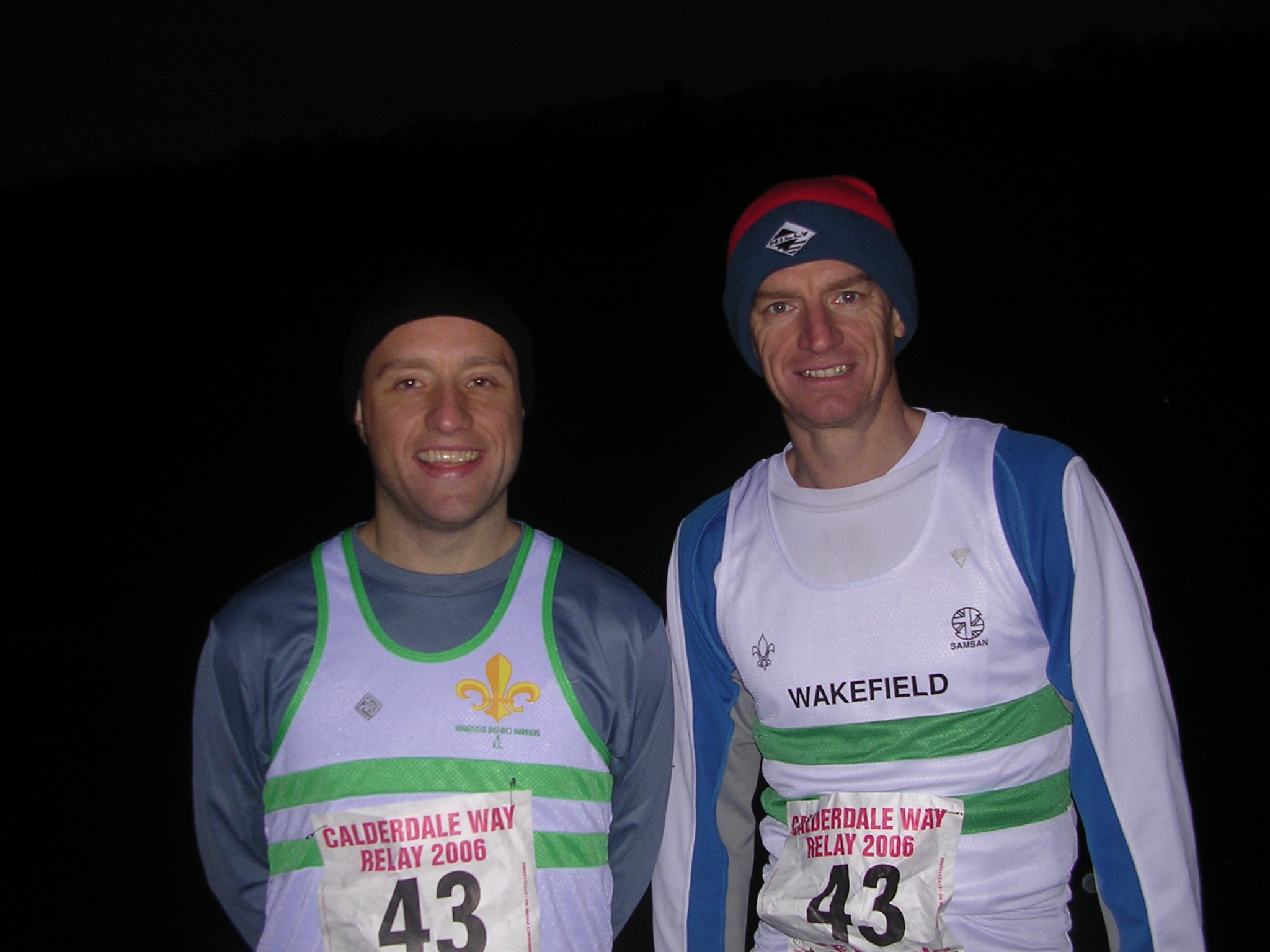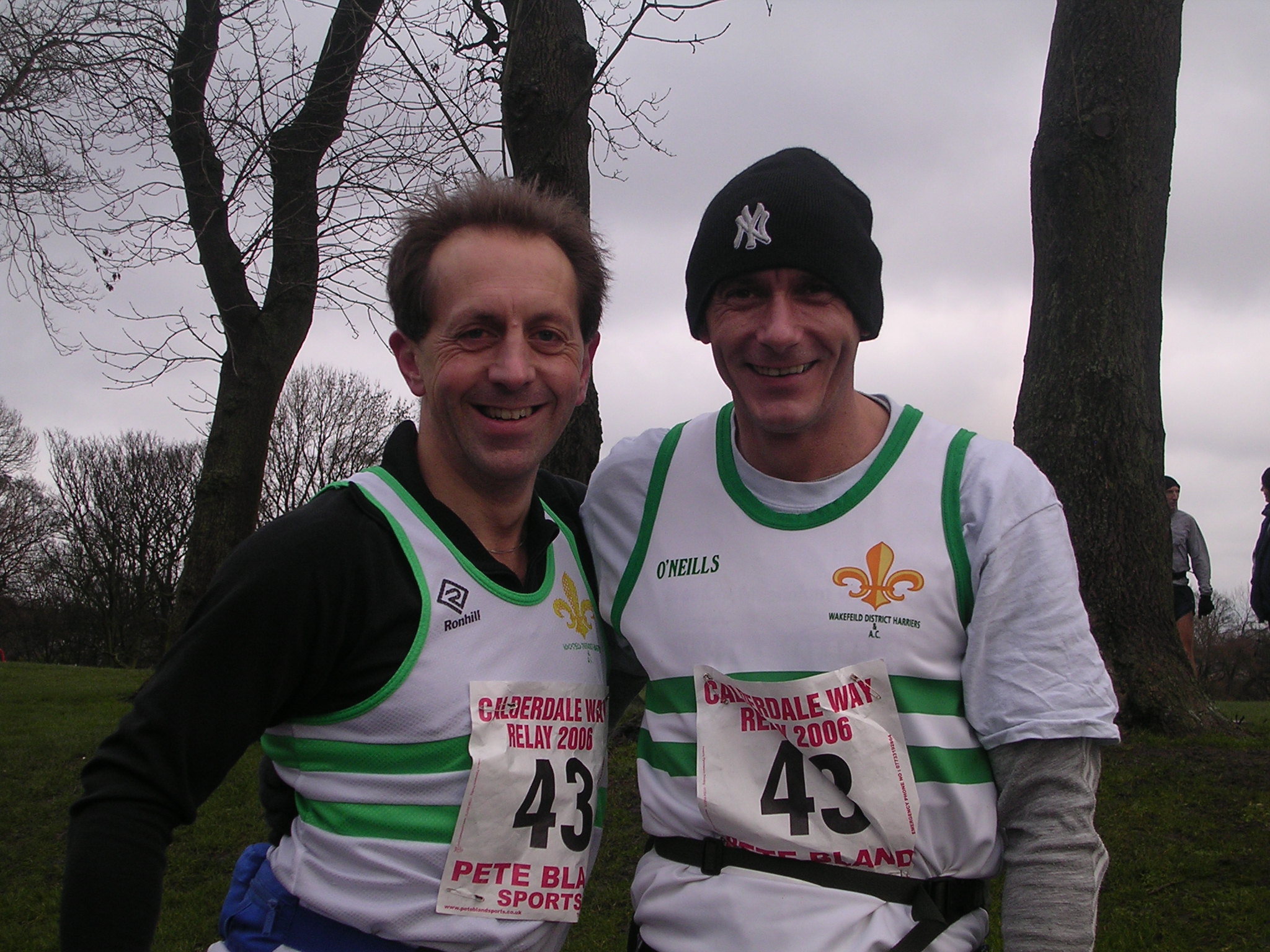 Neil and Steve, just before their dawn start, and Mark and Alan before their final leg.
10th December 2006. Aine Hoban 4th in European U23 Cross Country Championships.
It was a good day for the British Women at the SPAR European Cross Country Championships in San Giorgio su Legnano, Italy, with team victories for the U20 & U23 teams, and the seniors just missing out by one point. Our own Aine Hoban played a large part in the country's success, leading the Norwich Union Under 23 Women to Team Gold, and just missing an individual medal by a mere second after a magnificent run. She forced her way into third place with a little more than 200m to go and held the podium place until the final 30m when Turkan Erismis of Turkey hit back to snatch the Bronze medal. This was Aine's first return to GB duty since she helped the Under 20 Junior Team win Gold at the 2003 European Cross Country Championships in Edinburgh, where she finished 15th. Everyone at the club will be proud of Aine's fantastic performance. Full report from UK Athletics.
9th December 2006. Wakefield Harriers In Action at North of England Open Meeting.

| | |
| --- | --- |
| At the second North of England Open Meeting at the EIS Sheffield Chris Price turned to the indoors after his cross country activities, finishing 6th in the 3000 metres in 9:08.93. In the men's 300 metres Mark Smith ran 39.02, Gareth Hepworth 41.84 and in the women's Mikaela Harrison (U20) ran 41.79, Faye Mitchell (U17) 44.30 secs and Sarah Jones 47.47. In the Women's long jump Regan Wright was third with 4.68m, whilst Sam Dennis was 6th in the U15 Long jump with 4.43m. Full Results from NoEAA. | Chris Price - WYL U20 XC League Champion. |
3rd December 2006. West Yorkshire League Titles for Chris Price and Ben Homer.
In the final race of the West Yorkshire Cross Country League, held at Nunroyd Park Guisley, the overall league titles were decided, and the club came up with two overall league champions in Chris Price (U20 Men) and Ben Homer (U15 Boys). In the men's race Chris Price was a bit disappointed to finish 21 overall, but his 2nd place amongst the Junior Men gave him the overall Junior Men's league title. The men's team finished 14th in the race, and 12th overall in the league. In the women's race Sarah Beevers ran well to finish 3rd, with Helen Singleton in 12th. The U17 Girls team of Katie McHale (2nd), Kathryn Hillerby (7th) and Chloe Bracewell (10th) won their team race, and finished 2nd overall in the league, with Katie finishing 2nd individual. Ben Homer was once again a clear winner in the U15 Boys race, with Sam Bucknell in 10th. Ben won all 3 races he has competed in, to easily take the individual league title, with Dale Worton and Sam finishing 6th & 7th overall. In the U13 Girls race there was little to choose between Samantha Brooke, Olivia Radcliffe and Anna Cheeseborough, finishing 10th, 11th & 12th, and with Emilia Debaise completing the team in 30th, they finished 3rd in the race and 3rd team overall in the league. Libby Greatorex finished a fine 3rd in the U11 Girls race, and together with Nicola Dermody (14th), Bethany Graham (16th) and Sally Spurr (24th) the team finished 3rd and 2nd overall in the league. Other good individual runs were by Andrew Watersons (9th U11 Boys) and Joe Hargreaves (13th U17 Men). Results of all races.
27th November 2006. Aine Hoban Selected for European Cross Country Championships.
The club is delighted that Aine has been selected for the U23 Great Britain team to run in the SPAR European Cross Country Championships, to be staged in San Giorgio su Legnano, Italy, on Sunday 10 December. As a result of her fantastic run last week in the USA, she was told she didn't have to run in the trial race. The club nearly had two runners in the team, as Lucy O'Gorman was just one place from selection for the U23 team as well in the Trial race. Report from UK Athletics.
26th November 2006. Good Performances in Leeds Abbey Dash Road Race.
Nathan Elliot made a weekend return from his studies at Birmingham University, and ran a PB of 33 mins 28 secs to finish 65th overall in the Leeds Abbey Dash 10k. Sarah Beevers was 19th woman finisher, and 171st overall in a time of 37 mins 01 secs, in the huge field of around 4000 runners. Download results from Help the Aged.
25th November 2006. Wakefield Harriers Competing in UK European Cross Country Trials.
In the combined Senior Women/U23 race at the UK Cross Challenge at Liverpool, which incorporated the trials for the European Cross Country Championships, Charlene Snelgrove finished 21st overall in 25.28, and Lucy O'Gorman finished 5th Under 23 and 29th overall in 25.39. Lucy was just one place from virtually an automatic selection for the U23 team for the European Championships, a fantastic run. The club had several other runners in the UK Challenge races, and in the U15 Boys race Ben Homer had a great run to finish 7th. Report from UK Athletics.
25th November 2006. Wakefield Harriers In Action at North of England Open.
At the North of England Open Meeting at EIS, Sheffield Lucy Holmes won the U15 long jump with 4.57m, and was 3rd in the shot putt 7.66m and in the 60m 7th with 8.33secs. In the U15 boys Jamie Lunt was 6th in his 600 metre heats with 1.47.99 and Sam Dennis, 7th in the long jump with 4.29m. In the senior events Lewis Tatt was 5th in the 600m heats 1.28.13. In the U17 women 60m heats Faye Mitchell was 5th with 8.44secs. In the U20 women Sarah Jones was 6th in the 600m heats with 1.49.49, and Mikaela Harrison came 3rd in the 60m heats with 8.18 and in the 150m 4th with 19.33. Results from NoEAA.
20th November 2006. Aine Hoban in Good Form in the USA Students Cross Country.
Aine is continuing to show good form during her stint in the USA, studying at Providence College, Rhode Island. She finished in an excellent 7th place to help her university finish 7th team in the National Students Division 1 Cross Country Championships at Indiana State University. Read her profile on her college website, and their Race Report. She also impressed the selectors for the forthcoming European Cross Country Championships. Read the Report from UK Athletics.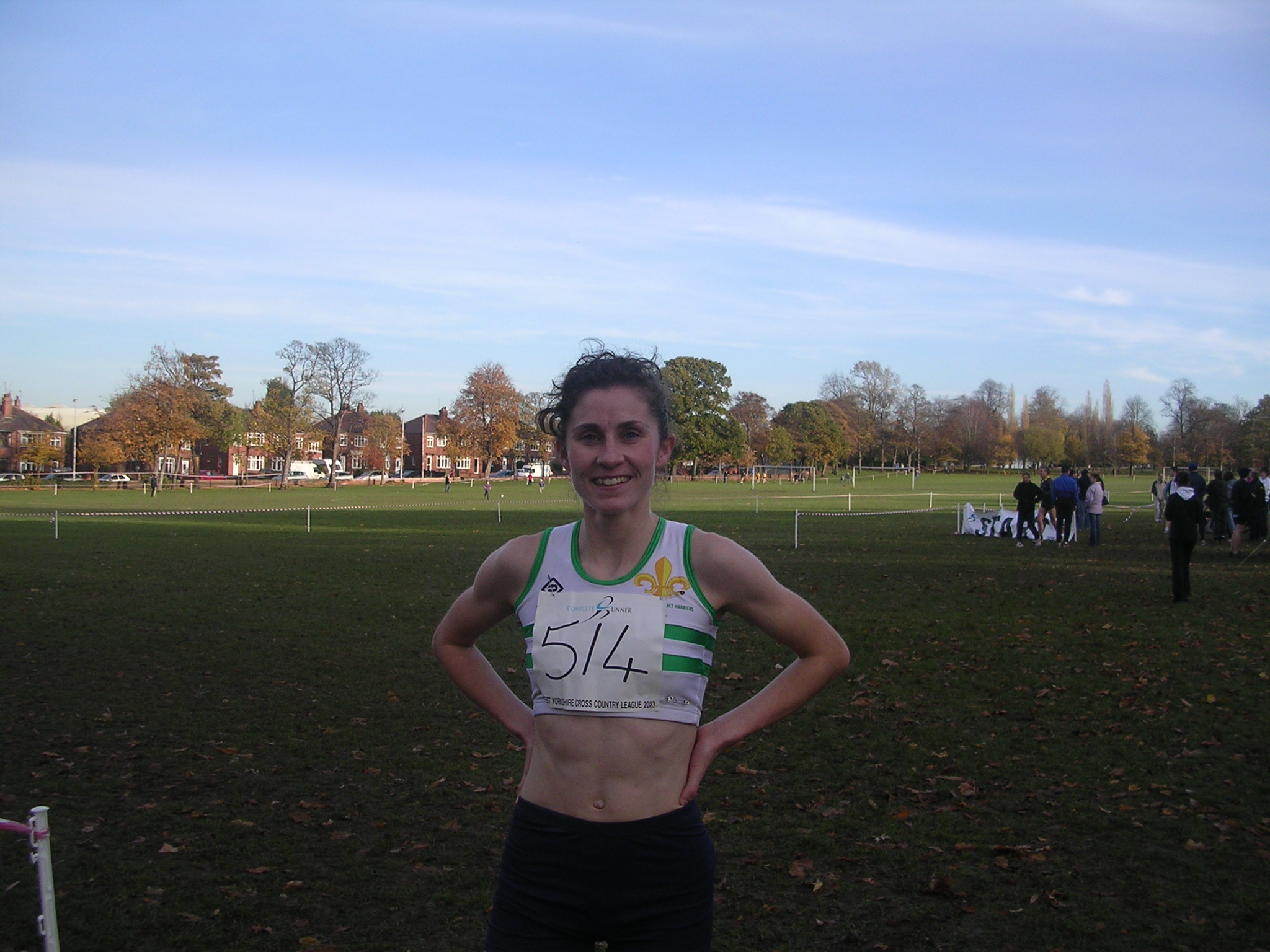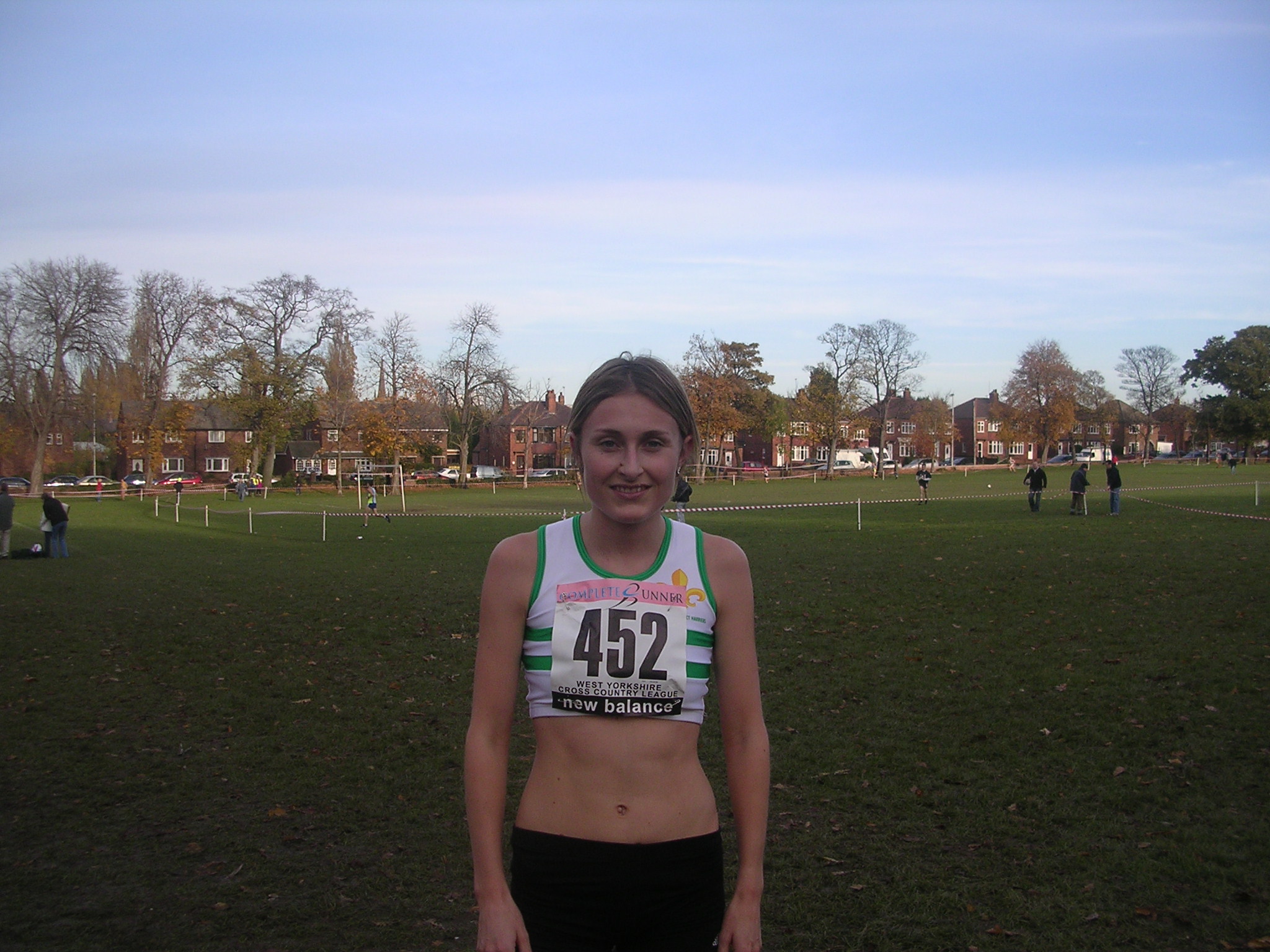 Charlene Snelgrove, winner at Thornes Park, and Helen Singleton who finished 4th.
19th November 2006. Wakefield Harriers Host West Yorkshire Cross Country League.
The club again successfully hosted the third round of the West Yorkshire Cross Country League at Thornes Park, with an encouraging turnout of runners from the club. Wakefield's 800m star Charlene Snelgrove was the class act of the day, running away with the senior women's race, with Helen Singleton also running very well in 4th. The club's other individual winner was Ben Homer, leading the U15 boys team of Dale Worton 6th, Sam Bucknell 8th and Adam Sutcliffe 29th to 2nd team. The U17 girls again performed well, with Katie McHale 2nd, Ellie Archer 8th, and Kathryn Hillerby in 12th place finishing 2nd team. The U13 girls team of Lauren Brooke 8th, Olivia Radcliffe 10th and Samantha Brooke 12th finished 3rd. In the senior men's race Chris Price continued his progression with an excellent run in 9th place, finishing first U20 man, and now taking the overall lead in the league in his category. The men's team finished 12th. Other top 10 finishers from the club were Joe Hargreave (9th U17 boys), Eleanor Richmond (9th U15 girls), Andrew Watersons (5th U11 boys) and Libby Greatorex (4th U11 girls).
Results of all races. and Photo Gallery from Tony Audsley.
12th November 2006. City of Wakefield Hosts a World Championship.
The City of Wakefield hosted the 3rd World Cross Country Championships for athletes with learning disabilities, with many club members assisting with the organisation. The event in Thornes Park was a great success, with athletes from 9 countries taking part from as far a field as Iran and South Africa. Included in the program of races was an invitation race for U13 athletes from local clubs, and the Wakefield Harriers team of Olivia Radcliffe, Anna Cheesebrough, Emilie Debaise and Bethany Porter won the girls race, with late entrant Lauren Brooke well placed. The boys didn't have a complete team, but there was a good run from Jack Mitchel in 4th.
5th November 2006. Fine 10-Mile Road Run from Mark Ridgway.
Mark Ridgway incorporated a trip to the Midlands with a race, and competed in the Flying Fox 10 mile road race in Staffs. He came 11th overall in a time of 59.16 mins taking the Vet40 3rd place. His time was due to an 'extremely hilly course', but he seems to be going well in this Action Photo.
5th November 2006. Good turnout by Harriers in Guy Fawkes 10.

| | |
| --- | --- |
| A 'fire cracker' of a turn out by Wakefield Harriers, on bonfire day, for the Guy Fawkes 10 mile race from the historic grounds of Ripley Castle, Harrogate. The 10 mile route was very hilly through the Nidderdale countryside in windy conditions. After a conservative start, Steve Tibbs gradually pulled through the 1000 strong field to finish a respectable 23rd overall in a time of 62.26 mins. Dave Brailsford had a good run finishing 41st place to snatch 3rd Vet50 prize in 65.37 mins. Next in was Matthew Dodsworth in 74th, followed by Richard West 77th, and Steve Wilkinson also in the top 100 in 94th. | An unlikely bunch of athletes modelling different versions of the club vest at the Guy Fawkes 10. |
4th November 2006. The Senior Women finish 11th in English National Cross Country Relays.
The Senior Women's team of Charlene Snelgrove, Helen Singleton and Sarah Beevers finished a very creditable 11th in the 3-stage English Cross Country Relays at Mansfield. Charlene was 10th fastest of the day, and without three of their leading runners from last year this was an excellent performance. The U15 Boys team of Ben Homer, Sam Bucknall and Dale Worton continued their fine form with an 11th place finish as well, whilst we also had top 50 finishes from the U13 Girls and U13 Boys teams. Nathan Elliot was also competing well for his University of Birmingham. Results of all races from NoEAA.
29th October 2006. Some Good Performances in 2nd West Yorkshire League Cross Country.
There was again a good turnout of Wakefield runners in the second West Yorkshire League Cross Country at Bodington Hall, Leeds. Best result this time was by the U17 ladies where Katie McHale (4th), Ellie Archer (6th) and Chloe Bracewell (10th) finished 2nd team. Sam Bucknell came in 6th in the U15 boys race, with Dale Worton in 10th, whilst in the U15 girls Eleanor Richmond finished 11th to lead the team to 6th place. The U13 girls did very well, with Samantha Brooke (6th), Lauren Brooke (7th) and Anna Cheesborough (11th) finishing 3rd team. Jack Mitchell was the leading U13 boy in 17th. Andrew Watersons led the U11 boys home in 5th, and Libby Greatorex in 4th was the first U11 girl. In the senior men's race Chris Price continued his progression, finishing an excellent 13th, and leading the team who also finished 13th in the large field. Results of all races at Leeds.
28th October 2006. Harriers Compete in Reebok Cross Country Challenge.
Several of the club's leading cross country runners ran in the prestigious Reebok Cross Country Challenge meeting at Senneleys Park, Birmingham. Talented U15 runner Ben Homer came 8th in his race, followed by Nathan Bolton in 27th, and 800m star Thomas Atkinson in 46th in a top quality field. Lucy O'Gorman finished 23rd Senior Woman out of 253, and Chloe Patchett 26th in the U17 women's race. Report & Results from UK Athletics.
26th October 2006. Zara Hohn Featured in Athletics Weekly.
Zara, Britain's top U20 100m Hurdler, had two pages devoted to her in this week's Athletics Weekly 'Rising Stars' feature. Athletics Weekly link.
22nd October 2006. U15 Boys Team Finish 6th in ERRA Young Athletes Road Relays.
In the England RRA Young Athletes Road Relay Championships at Sutton Park, Birmingham the U15 Boys team finished an outstanding 6th overall, and were the 2nd team from the North of England. Ben Homer got them off to a good start in 9th on the opening leg with the good time of 12:48, then Sam Bucknell gained a place with his 13:40, before Dale Worton gained two more places with his 13:25. This has been our best result in this event for many many years.
The U13 Girls team of Lauren Brooke (15:43), Olivia Radcliffe (16:13) and Anna Cheeseborough (17:25) finished a fine 20th in their race, and the U17 Ladies team of Katie McHale (14:37), Ellie Archer (15:37) and Catherine Hillerby (15:53) finished a very creditable 17th in theirs. Results of all races from Sportsoft
In the Senior races the previous day the women were unable to complete a team, but there were fine runs from Charlene Snelgrove and Helen Singleton and they were lying 12th after two legs.
14th October 2006. Mark Ridgway Takes Silver in Yorkshire Vets Half Marathon.
In the Bridlington Half Marathon Mark Ridgway made one of his rare race appearances and came away with a silver Yorks Vet40 medal, after finishing 8th overall out of 650 runners in 1hr 16:19 mins. Dave Brailsford just finished out of the medals in 4th place in his Vet50 category, in 1hr 24:37 mins and in 53rd place overall. Race Results from Sportsoft.
14th October 2006. Good Turnout in first West Yorkshire League Cross Country.
There was an encouraging turnout of Wakefield runners in the first West Yorkshire League Cross Country at Salendine Nook, near Huddersfield. Best result was by the U15 boys where Ben Homer was a clear winner, and followed by Dale Worton in 4th and Sam Bucknell in 6th the team won easily. The U11 girls also won their team race, led home by Libby Greatorex in 4th, and supported by Bethany Graham in 12th and Sally Spurr 17th. Other leading performances were by Laura Timms 14th in the U15 girls, Olivia Radcliffe was 4th and Lauren Brook 8th in the U13 girls, Jack Mitchell 18th in the U13 boys, and Kathryn Hillerby 11th in the U17 ladies. The senior women had Sarah Beevers and Helen Singleton in 2nd and 3rd, but had to wait for a third counter and finished 6th team. For the first time in several years the senior men had a complete team, led home by Chris Price in 26th. Results of all races at Huddersfield.
13th October 2006. Notice for Senior Male Athletes from Team Manager Darren Thomas.
New track and field team manager for the seniors mens team Darren Thomas has e-mail address darrent@ftlseals.co.uk and would like all under 17/junior/senior and veteran men who want correspondence (and to compete) with upcoming news on next season's track and field league meetings to send him a quick e-mail so he can put a group together. Those without e-mail don't worry as he will be sending out a newsletter later this year.
8th October 2006. Good Turnout of Harriers in the Harewood Trail Race
A large contingent of Wakefield Harriers vets converged on the Harewood Estate in Leeds at the weekend to compete in the Harewood Trail 10 Mile race. The course takes the runners on an undulating tour, off-road, using tracks and trails through the Harewood estate, past the Emmerdale set and incorporating Eccup reservoir.
The Harriers were led home by a slowly improving Steve Tibbs Vet40 in 15th place overall in a time of 64.02mins. Pete McNamara Vet45 ran a strong race, in a field of 500, to finish 25th in 65.34mins. Rich West (68.51mins) fought off Vet50 Dave Brailsford (69.07mins) to finish 62nd and 63rd respectively. Other finishers included Steve Wilkinson Vet45 79th (70.20mins), Tony Audsley Vet50 184th (79.34mins), Stuart Anderson Vet60 280th (85.02mins), Graham Whitworth Vet50 365th (91.47mins). Wakefield Harriers' new women's cross country Captain Pat Wood Vet45 came 432th in 98.03mins.
2nd October 2006. New Members on Harriers Committee after AGM.
At the Annual General Meeting there were a few changes to the Club Committee, with a few new members stepping forward to help out. After more than 5 years Keith and Sue Lockwood stepped down from their positions as Catering Officers, and Sue as Membership Secretary. They will be sadly missed by all Club members for all their hard work serving us over the years.
Mandy Yates and Andrea Flood have kindly taken over catering duties, whilst Mick Hewitt has taken on the task of Membership Secretary. Other new appointments include Richard West as Mens Cross Country Captain, and Pat Wood as Ladies Road and Cross Country Captain. They are both keen to try and boost the distance running side of the club.
2nd October 2006. Harriers Website Receives it's 100,000th Visit
The Club website reached a major landmark today when it received its 100,000th visit since it was set up by Andy Fletcher in 1999, and then maintained by Peter Young since 2002.
1st October 2006. U15 Boys Finish 3rd in Northern Young Athletes Road Relays
The U15 Boys team did exceptionally well in the Northern Young Athletes Road Relays at Sport City, Manchester, finishing in the medals in 3rd place, and just one second behind the 2nd place team. Ben Homer got them off to a flying start on the first leg in 2nd place, his time of 8:50 being 4th fastest of the day. Sam Bucknall kept them in touch in 3rd with 9:37, and Dale Worton held position on the last leg with 9:09.
The U17 Ladies team of Katie McHale, Chloe Bracewell and Ellie Archer finished a fine 10th, with Katie being 9th fastest of the day, and the U13 Girls team came 23rd in their race. Race results from SportSoft
Top | Home


Club News and Reports Archives