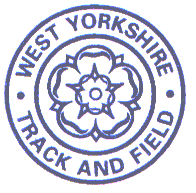 The West Yorkshire Track & Field League
2017 Results
Entry forms for the League should be obtained from your affiliated Club Secretary,
and should be sent in a week before the next meeting.
ALL athletes MUST have an up to date England Athletics registration,
and must wear their club vest.
Please note :- all clubs participating in the league MUST provide
at least one field official or helper at each meeting.
Pages last updated 11th September with results of Championships
Contact Details :-
For queries about entries & registration, Email the Registration Secretary Yvonne Waterhouse.
For queries about results, Email the Results Secretary Peter Young.
---