Yorkshire Cross Country Championships
5th January 2008 - Huddersfield
It was a great day for the club at the Yorkshire Cross Country Championships at Huddersfield, with the highlight being 2 individual winners, and 5 sets of team medals. Lauren Proctor won the U15 Girl's title and Jack Hallas took gold in the U17 Men's race, leading the U17 Men's team to victory.

The U13 Girls got the day off to a great start, with Olivia Radcliffe having an outstanding run to finish 2nd, and with Libby Greatorex 10th and Bethany Sharp 18th the team did very well to take the bronze medals. U13 Girls Results
In the U15 Girls race Lauren Proctor was one of the pre-race favourites, and she convincingly won the individual title. And with fine runs from Sally Smith in 6th, and Eleanor Richmond in 27th, the team were desperately unlucky not to win the team race, as they tied on 34 points with Hallamshire, but lost the title on countback. Still they should be very proud of their silver medals. U15 Girls Results
We just had the one runner Catherine Hillarby in the U17 Women's race, but she ran creditably to finish 18th. U17 Ladies Results
In the Senior Women's race we had a good team result, finishing 3rd, and they were led home by Julie Briscoe who finished a fine 8th. She was followed home by middle distance specialists Helen Singleton and Kelly Johnson, in 13th and 18th places respectively. U20 runner Katie McHale was our next finisher in 23rd place, and was the 2nd U20 runner home. Senior Womens Results

The U13 Boys were outstanding in finishing 2nd team, with Jake Worton 6th, Jack Mitchell 7th, Daniel Franks 20th & Jack Richmond 23rd finishing just 10 points behind the winning team.
We didn't have a complete team in the U15 Boy's race, but Ashley Raby ran solidly to finish 27th.
The U17 Men's team dominated their race, with Jack Hallas, Sam Bucknell and Ben Homer always in the leading group, but Jack's strength told in the later stages as he won an exciting sprint finish. Ben finished a strong 6th, with Sam not too far behind in 8th. Dale Worton never looked happy in the mud, but came through strongly in the later stages to finish 16th and help clinch the team gold medals.
The Senior Men had no star runners out, but packed well to finish 11th club, and were led home by Carl Quinn in 99th place.
All Boys & Mens Results

Team Photographs from Chris Mitchell, and Race Photographs from Tony Audsley, and yet more Race Photographs from Howard Miller.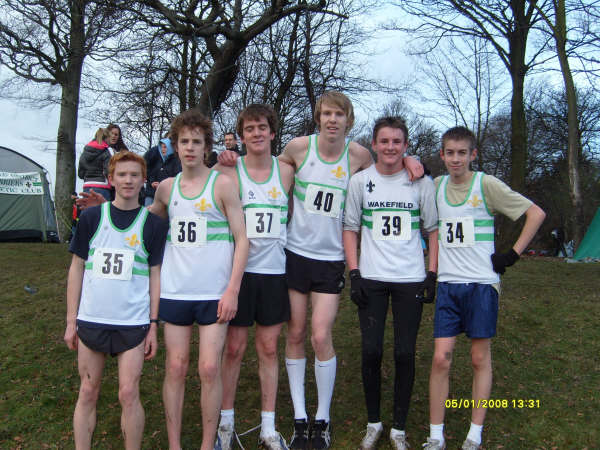 The Yorkshire Championships winning U17 Men's squad of (from left to right)
Tom Coney, Joe Hargreaves, Ben Homer, Jack Hallas, Dale Worton and Sam Bucknall.