Sheffield Open Cross Country Races
Graves Park Sheffield - Saturday 27th Dec 2008
The club had some good results at the Sheffield Open Cross Country event on 27 December 2008, in Graves Park.

In the U13 girls race Libby Greatorex ran a fine race to finish first in 9.57. She was ably supported by Heather Ludvigsen in seventh place in 11.39 and Sally Spurr in tenth place in 11.55. This also gained them first prize in the team race.

In the U13 boys race Daniel Franks was an excellent second in 10.24.

In the U15 girls race Lauren Brooke ran a fine race to finish second in 10.59. She was ably supported by Louisa Long in third place in 11.03 and Olivia Radcliffe in fourth palce in 11.17. This won them the team race. Also having good runs were Bethany Sharp in ninth in 12.33 and Becky Lancaster in tenth in 13.59.

In the U17 girls race Sarah Franks ran admirably to win her race in 18.26.

Overall a good day for our younger club members.


The U15 girls winning team presentation.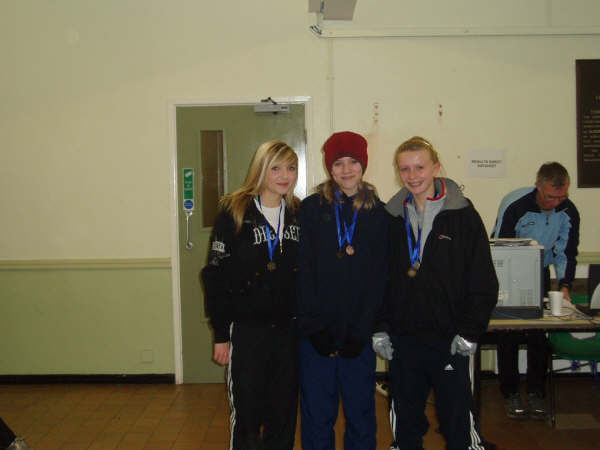 Report from Steve Long. Download Full Results.