Douglas Bedford
The Club is very sad to report the death on Sunday 5th August of our long time Club President Douglas Bedford. He died at the age of 75, after a long battle with cancer. Doug made a huge contribution to Wakefield Harriers and to the sport of Athletics, and will be very much missed by the club and all the athletics fraternity.

He first got involved with the Harriers way back in 1968 when he became an official starter for sprinters shortly after becoming an official starter at athletics meetings in the spring of that year. Doug began to coach a host of promising athletes at the club and was appointed vice-president in November 1968 before taking over the reins as club coach the following year. He became Chairman in 1970 and President 12 months later, a position he held until his death.

After seven years of being a starter at events throughout the North of England Doug was appointed as a Grade 1 Starter, and gained a coveted place on the National/International list in January 1975, and he went on to officiate at a host of blue-riband events. In 1980 he was appointed as a Chief Starter, with personal highlights including officiating in the UK Championships, European U20 Championships, and the 1986 Commonwealth Games at Edinburgh, along with the European Indoor Championships and World Student Games.

The athletics devotee also served on a host of committees and was involved closely with the development of athletes both in Wakefield and across the North, whilst helping to organise and run a host of events in the city. Doug was also a life Vice-President of the Yorkshire Women's Athletic Association whilst also being a former Secretary. He was also a member of the West Yorkshire County Athletic Association and a former acting secretary, and he worked as a tutor for Disport in Yorkshire and Humberside. In addition he was a former Chairman and Secretary of the North of England Athletics Officials Association and Yorkshire Athletics Coaching Committee.

In Wakefield he was kept busy serving as a member of the Wakefield Schools Athletics Association and he was a former Chairman and Vice-President of the Wakefield District Advisory Sports Council, and a former Chairman of the Wakefield District Sports Forum.

Douglas will be sadly missed by the club, having served selflessly for nearly 40 years. He was a straight 'John Bull' type, who always spoke his mind, but everyone recognised that everything he said and did was for the welfare of the athletes and of the club. He genuinely loved all the athletes, and was extremely proud of their success.

Doug leaves a son Alex, and he and his family would like to express their sincere thanks to everyone for their help and support during Doug's illness and since he passed away. Everyone's kind words over the last few weeks have been greatly appreciated by the family during this difficult time. The donations towards Wakefield Hospice have so far reached over £750.
The funeral was held on Thursday 16th August.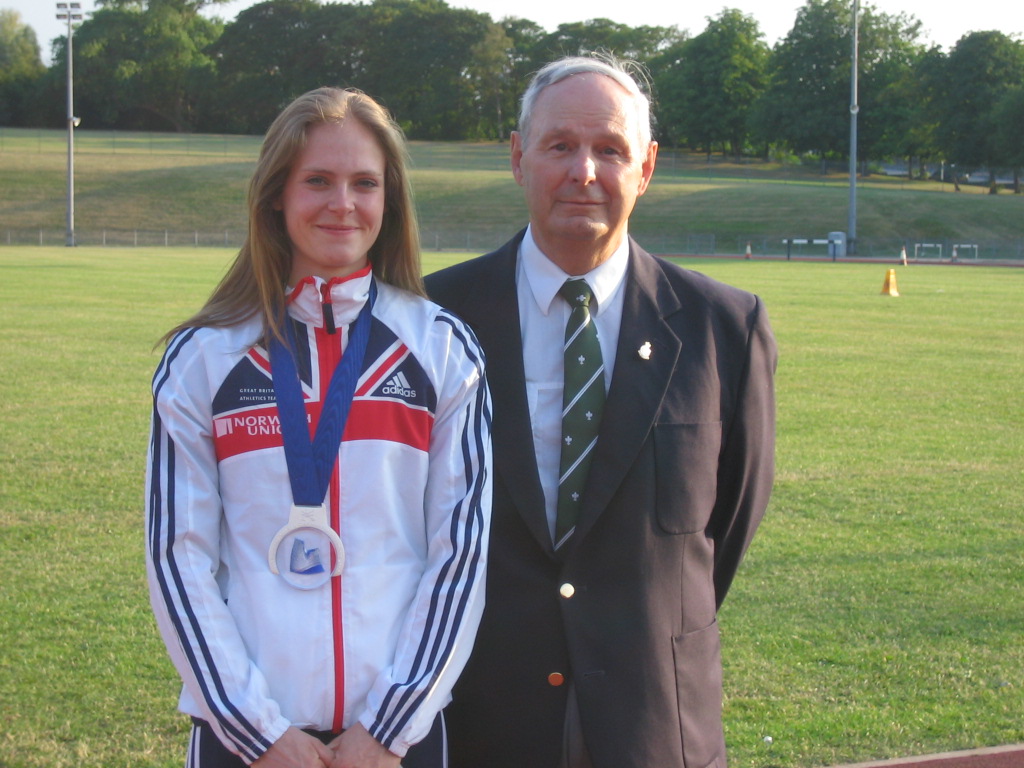 A proud Douglas pictured in 2006 with Emily Freeman.